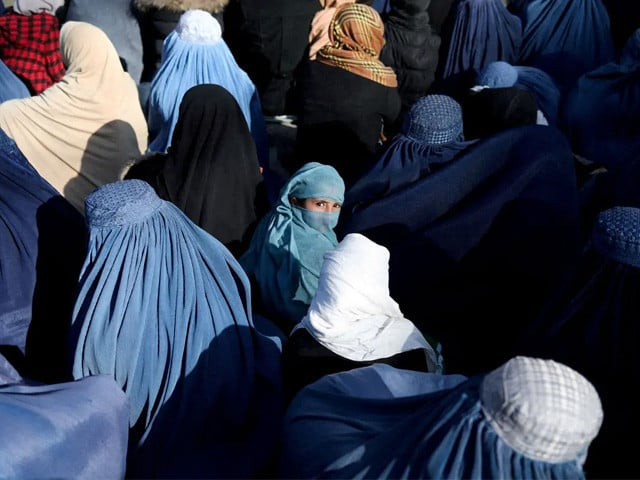 [ad_1]
Nearly a dozen UN Security Council members on Friday urged the Taliban to end repressive treatment of women in Afghanistan as the hardline Islamists push ahead with tightening restrictions.
The Taliban seized power in August 2021, promising a softer version of their brutal 1996-2001 rule that was infamous for human rights abuses.
But they have squeezed women out of almost all areas of public life, recently banning them from secondary and higher education, public sector work and from visiting parks and baths.
"We urge the Taliban to immediately reverse all oppressive measures against women and girls," said Japanese ambassador Ishikane Kimihiro, speaking on behalf of 11 members of the Security Council.
Read more: UN won't halt aid to Afghanistan despite ban on women in NGOs
These were Albania, Brazil, Ecuador, France, Gabon, Japan, Malta, Switzerland, the United Arab Emirates, Britain and the United States.
The nations called on the Taliban to "respect the rights of women and girls, and their full, equal and meaningful participation and inclusion across all aspects of society in Afghanistan, from political and economic, to education and public space."
The statement made explicit mention of Afghan women's exclusion from secondary schools and universities, and a ban on NGOs employing Afghan women.
"NGOs will be unable to reach those most in need, in particular women and girls, to provide lifesaving materials and services," it said.
Several international aid groups have suspended their work in Afghanistan because of the ban, which was announced by the Taliban government on December 24. But the UN said its agencies would keep working in Afghanistan.
"The situation of women and girls in Afghanistan must remain high on the agenda of the Security Council," said Friday's statement, which came during a closed-door council meeting.
"We'll discuss today a unified international response to the Taliban's actions," British ambassador Barbara Woodward tweeted. "We aim to stop the slide into humanitarian catastrophe and reverse the bans on women and girls."

[ad_2]
Source link