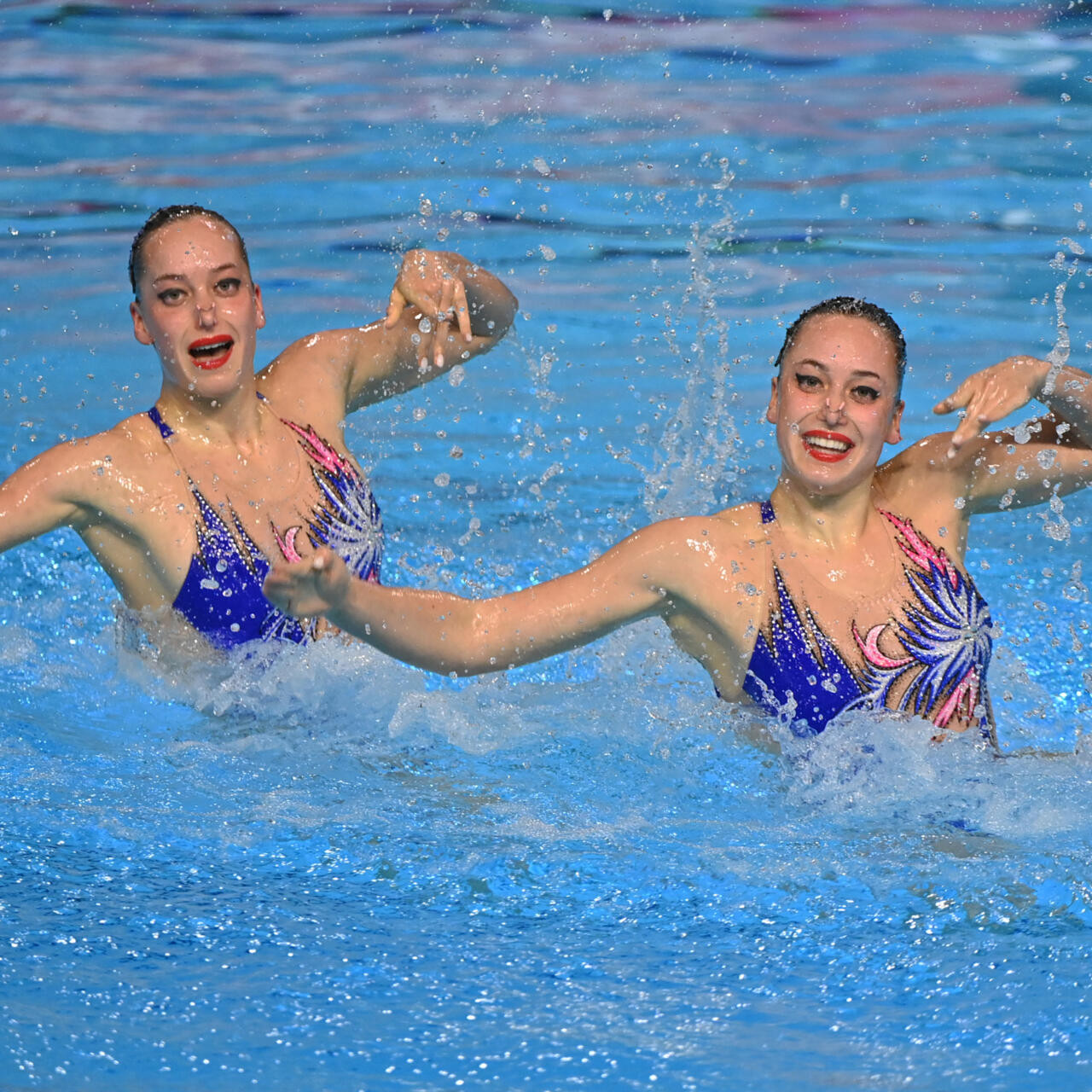 Far from home and fearful for their family they left behind, Ukrainian artistic swimmers Vladyslava and Maryna Aleksiiva are still daring to dream of winning medals at the Paris Olympics.
The 21-year-old Ukrainian sisters won the bronze medal at the Tokyo Olympics and were training to do even better when the Russians invaded their country last year.
They fled Kharkiv at the start of the war as Russian missiles rained down on the city.
They spent six months in Italy and are now able to make short stays in Ukraine, in between stops on the international circuit, most recently for a World Cup event this month in Montpellier, southern France.
In an interview with AFP, they admitted it was hard to focus on training when their parents and other family members are under constant threat back home.
"I was a little bit nervous…," says Maryna and her voice trails off. Like the perfect partner Vladyslava takes up the baton: "And it's stressful for us to be separated from our relatives because they are still in Ukraine and yesterday there was bombing and there were destroyed houses in Uman and also in Kyiv.
"So of course it's a stressful situation when you're abroad and your parents are in Kyiv, also in Kharkiv.
"It's better to be together, but we must show our sport, our braveness in the competition, so we must sometimes go abroad."
Even as they enjoyed ice creams in Montpellier and posted to social media, the anxiety was evident.
"I called Mum yesterday, but it was an air alert. I was a little bit nervous. Mum and Dad said 'everything's OK, don't worry, we're fine'. So we tried to keep calm and concentrate on our competition."
After Montpellier, where they won the women's duet free category, they will compete in Spain, Poland and then Japan, for the world championships in Fukuoka on July 14-30.
Training and competing in France has been almost a utopian world for the sisters after their experiences in Ukraine where they were often deprived of electricity and lights.
"And very cold water! Winter outside and winter inside the pool," said Maryna.
"Without electricity, we could not dry our hair. Now, it's a little bit better because it's warm and we have electricity.
"Sometimes I still turn on the flash on my phone because I forget that we have electricity."
With bitterness, they recalled the messages they received from some of their Russian competitors at the start of invasion.
"Some girls wrote to us to say 'don't worry, we will save you' during the first days of the war, 'don't worry, it's a safety operation'," says Maryna.
"You're crazy? I invite you to Kharkiv and you will see how my home town is now… everything has been bombed: our pool, where we started training, our school, our city centre…"
Athletes from Russia and its ally Belarus were largely banned from international competition following the invasion.
But in March the International Olympic Committee said they could return to competition as individual neutrals, providing they did not actively support the war.
Ukraine immediately pulled its judo team out of the world championships in Qatar earlier this month in protest at the newly readmitted Russians competing there.
The Aleksiiva sisters fear a similar scenario will lead to Ukraine boycotting the Paris Olympics.
Having earlier joined a chorus of Ukrainian athletes vowing to boycott the 2024 Games if the IOC allows Russians to participate, the sisters have softened their position and now suggest their government should revise its unwritten policy on forbidding athletes from taking part in events in which Russians also compete.
"Maybe from our side we must do something with our (policy), to change it," Vladyslava said. "So that we can go to championships where there will be Russians.
"Because it's stupid that they can go – but they kill people – and we didn't do anything and we can't go."
The sisters are frustrated that their gargantuan sacrifices in training may go to waste. They feel it is better to show the world that Ukraine remains defiant.
"We've been training every day for seven hours and we have a goal, to show our braveness," said Maryna.
"And show our country to the whole world," said Vladyslava.
Maryna added: "We hope that other countries and sportsmen support us and understand our position about the Russian sportsmen."


Source link