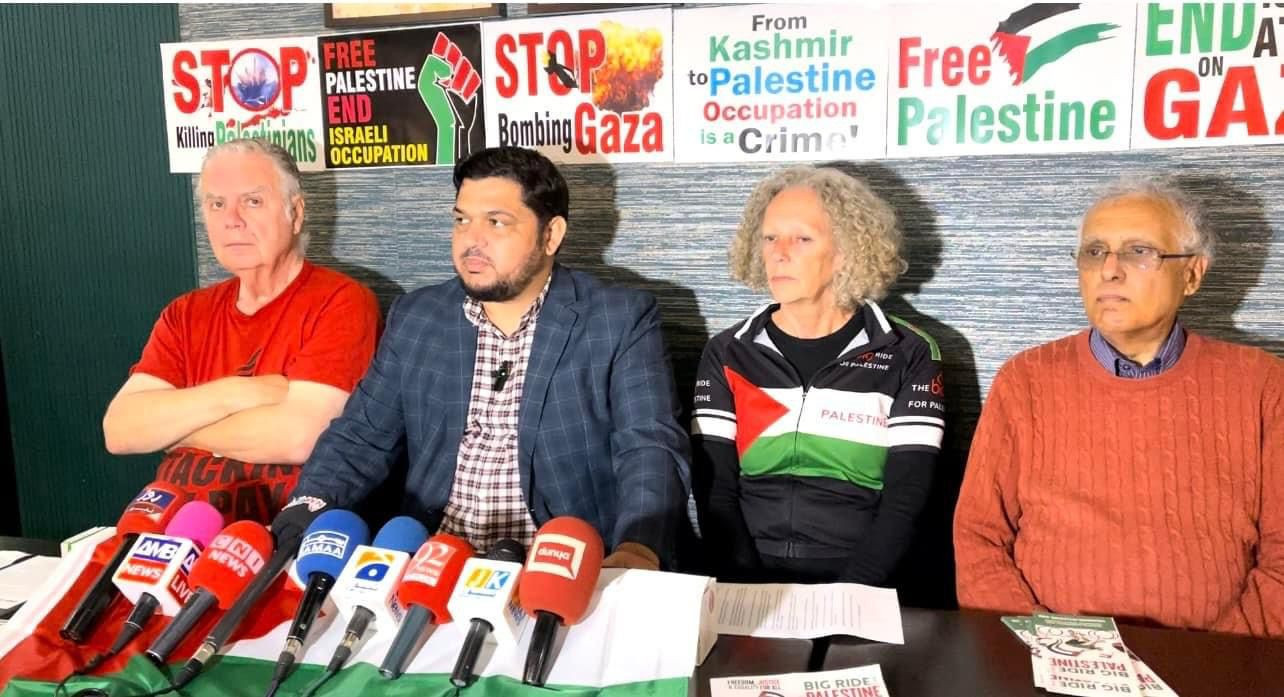 UK rights group calls for demonstrations against Israel

BIRMINGHAM:

Enraged over the massacre of innocent Palestinians in Gaza and occupied territories by apartheid Israeli forces, various freedom-loving groups in the UK called for the National March for Palestine – Stop the War on Gaza at Marble Arch in London on Saturday.
The call for nationwide demonstration in London was jointly made by Palestine Solidarity Campaign, Stop the War Coalition, Tehreek-e-Kashmir UK and other rights groups
Addressing a news conference, pro-Palestinian leader Ceinwen Hilton called on people of conscience to come out on Saturday to extend moral support to suffering Palestinians.
"Birmingham supporters of freedom, justice and equality in Palestine have been stunned and horrified at events in Gaza," said Hilton.
Read more: Israel levels Gaza district as Palestinian death toll reaches 3,785
Due to ongoing bombardment by apartheid Israeli forces, over 3,500 Palestinians, mostly children, women and elderly, have been murdered in besieged Gaza. Thousands of others have been injured.
"Disgracefully, the horrifying bombardment, cutting off supplies of water, electricity, food and medical supplies and the forced displacement of Palestinians to the south of Gaza is illegal under international humanitarian law (but) has been supported by the UK government and the leader of the Labour Party," she said, reading a joint statement by the UK-based groups.
Hilton said the bombing of the al-Ahli Baptist hospital "shocked people to the core." Nearly 500 people were killed when Israeli forces launched airstrike on the hospital in Gaza on Tuesday night.
"Israel, the members of the UK government and opposition who have support Tel Aviv, stand accused of war crimes and crimes against humanity which are happening now, and which should be immediately condemned and stopped," the joint statement, backed by Fahim Kayani, Stuart Richardson and Naeem Khan, said.
Calling out the collective punishment of Palestinians, the statement added: "Politicians in this country are sending a dangerous message that crimes against Palestinians, and by extension Arabs and Muslims are acceptable."
They invited supporters of Palestinians to come out in large numbers for the national demonstration in London against Israeli atrocities.
Kayani, leader of Tehreek-e-Kashmir UK, in a brief statement, expressed unequivocal support from Kashmiris to Palestinians.
"Who better than Kashmiris know the plight of Palestinians," he said, recalling solidarity demonstrations held in Indian Illegally Occupied Jammu and Kashmir for Palestine.
"Injustice anywhere is a threat to justice everywhere," said Kayani, pointing out how Western governments were backing apartheid Israel against genuine and UN-backed struggle of Palestinians.
"Same is the case with Kashmir that Western capitals have given a free pass to genocidal regime in India to eliminate Kashmiris," he regretted.
"Our struggles are same," he said, stressing that from Kashmir to Palestine, occupation is a crime.