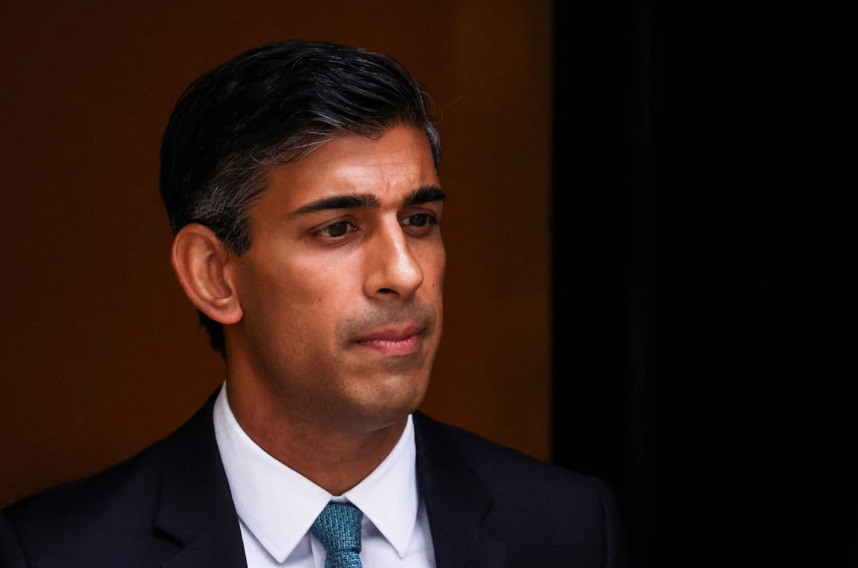 [ad_1]
United Kingdom Prime Minister Rishi Sunak was fined for not wearing a seatbelt in the backseat of a moving car while filming a social media video, BBC News reported on Saturday.
Sunak was on a trip across the north of England, driving in Lancashire when the video was filmed, according to BBC News.
He had shared this video promoting the UK government's latest round of "levelling up" spending on his Instagram account.
BBC News reported that the Lancashire Police said that they had issued Sunak a conditional offer of a fixed penalty. The British prime minister accepted his mistake and apologised, agreeing to pay the fine.
In the UK, car passengers not wearing a seat belt despite there being one available can be fined £100, which can increase to £500 if the case goes to court.
This is not the first time the British prime minister has been fined while in government.
Last April, he received a fine for breaking Covid-19 lockdown rules by attending a birthday gathering for the then-prime minister.
Read UK PM Sunak apologises for not wearing a seatbelt
Deputy Leader of the Labour Party Angela Rayner, in a Tweet, called PM Sunak a "total liability".
Rishi Sunak is a total liability. https://t.co/mic7plByS1
— Angela Rayner 🌹 (@AngelaRayner) January 20, 2023
BBC News reported that a Labour Party spokesperson said that "Hapless Rishi Sunak's levelling-up photo op has blown up in his face and turned him into a laughing stock."
Liberal Democrats claimed that the prime minister had "shown the same disregard for the rules as Boris Johnson", according to BBC News.
However, Conservative MP for Blackpool South Scott Benton defended PM Sunak in a tweet.
He said that the police should focus on "investigating serious crime", adding that "politically motivated complaints about a seat belt are not good use of frontline resources".
.@LancsPolice do an amazing job, but I'm sure their time is better spent investigating serious crime which impacts on my constituents. The vast majority of people would think that politically motivated complaints about about a seat belt are not good use of frontline resources. https://t.co/EFmqMPRjzU
— Scott Benton MP 🇬🇧🏴󠁧󠁢󠁥󠁮󠁧󠁿 🍊 (@ScottBentonMP) January 20, 2023


[ad_2]
Source link