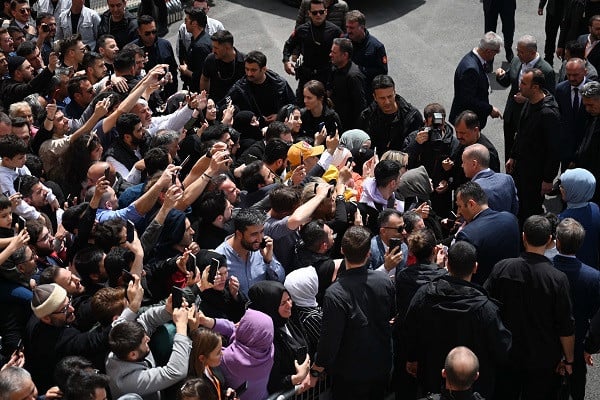 Turkish President Recep Tayyip Erdogan's support in a crucial election slipped under the 50% threshold needed to avoid a runoff on May 28, state media reported Sunday.
Erdogan was picking up 49.94% of the vote with 89.2% of the ballots counted, against 44.3% of the vote for opposition leader Kemal Kilicdaroglu, the Anadolu state news agency said.
Earlier, Turkey's main opposition party embarked on an emotional rollercoaster on Sunday as a see-sawing vote count threatened to dash hopes of the first-round election victory over conservative President Recep Tayyip Erdogan.
Polling had suggested that the opposition figurehead Kemal Kilicdaroglu had a chance of crossing the 50% threshold required to win Turkey's momentous presidential ballot without contesting a May 28 runoff.
But the hopes of his six-party alliance were dealt an early blow when the first partial results provided by the Anadolu state news agency said Erdogan was winning with more than 53% of the vote, with Kilicdaroglu languishing near 41%.
Istanbul's opposition mayor Ekrem Imamoglu urged Turks to disregard the official Anadolu figures and claimed separate numbers held by Kilicdaroglu's Republican People's Party (CHP) showed a different picture.
Read Erdogan ahead in Turkey initial vote results, but his margin is expected to narrow
The figures provided by pro-opposition news outlet Anka showed Erdogan and Kilicdaroglu in a dead heat. Most of the early ballots appeared to have been counted in heavily pro-Erdogan districts of Turkey's north and east.
However, opposition spirits revived as Kilicdaroglu began chipping away at Erdogan's lead, with votes still to be fully counted in major cities likely to back the opposition, such as Istanbul, Ankara and Izmir.
Erdogan said hurrying to announce election results while the counting goes on would mean stealing people's will, while challenger Kilicdaroglu warned election authorities to log all nationwide results.
"While the election was held in such a positive and democratic atmosphere and the vote counting is still going on, trying to announce results hastily means usurping the national will," Erdogan wrote on Twitter in his first message since voting ended.
Kilicdaroglu said separately on Twitter: "We will not sleep tonight" as he warned that all ballots should be included in the count. At the CHP's Istanbul headquarters, Evrim Narin told AFP she still believed "we will win".


Source link