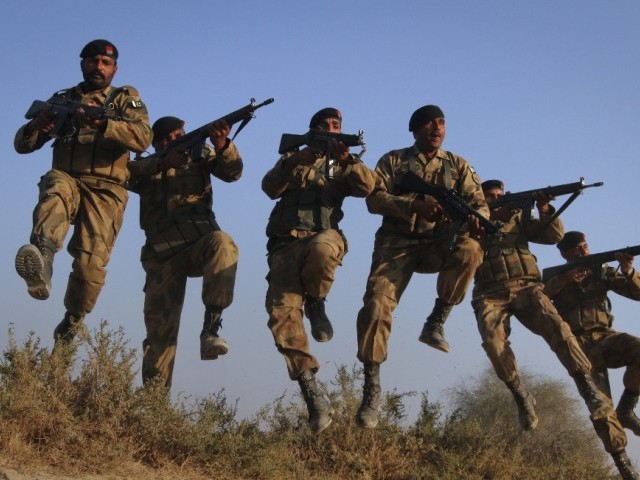 [ad_1]
The banned Tehreek-e-Taliban (TTP) Pakistan is trying to create an impression that it has the capability to challenge the writ of the state as the recent Bannu operation against militants left its mark on the law and order situation of the country.
The security forces on Wednesday regained full control of the Counter Terrorism Department (CTD) compound in Bannu, rescuing all the hostages in the facility as well as killing and capturing the terrorists holding them, officials in the town said.
The Special Service Group (SSG) of the army had launched an operation against the militants a day earlier after talks for their peaceful surrender and ending the siege failed.
The operation continued overnight and on Wednesday and the security forces cleared the centre of all the terrorists.
During the two-day clearance operation, three troops were martyred, while 27 officers and soldiers sustained injuries.
Sources have said that Chief of Army Staff (COAS) General Asim Munir visit to SSG headquarters in Waziristan is seen as crucial in this connection.
They added that TTP had also termed the Bannu operation a major blow for the banned outfit as large numbers of terrorists were killed in the gun battle with security forces.
Bannu operation will be written among the most successful operations in the history, which was launched to rescue the hostages.
The operation was completed in the most professional manner during the challenging time and the military did not come under any kind of external pressure.
Following the operation, the army chief visited SSG headquarters and Waziristan on Friday to send a strong message to the terrorists.
Also read: COAS vows to take battle to terrorists
During the visit, General Asim said the Pakistan Army remained focused on the evolving security situation and was determined to take the battle to the terrorists and break the nexus with their facilitators so as to ensure lasting peace through socioeconomic development.
"Pakistan Army will consolidate the hard-earned peace made possible by the supreme sacrifices of the resilient Pakistani nation and the law enforcement agencies," the army chief said while addressing field commanders during his visit to Miranshah, North Waziristan.
According to the military's media wing, the COAS laid floral wreath at the Martyrs' Monument to pay homage to the brave soldiers who laid down their lives while defending the motherland.
Later, the COAS also visited the Special Service Group (SSG) Headquarters in Tarbela.
He met officers and men of the SSG, including the elite Zarrar Company whose soldiers gallantly acted in the recent Bannu Counter Terrorism Department complex operation as well as aviation.
Gen Asim praised their indomitable spirit, sacrifices and commitment to the duty in various operations.
The COAS said, "The SSG is the pride of the nation and it has proved its metal over the years."

[ad_2]
Source link