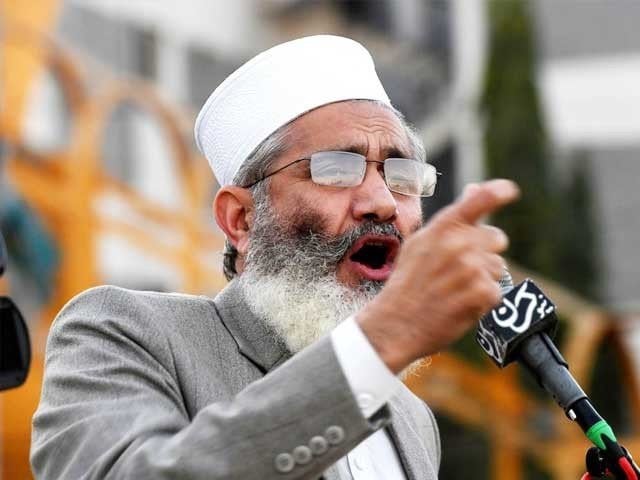 [ad_1]
Jamaat-e-Islami chief Sirajul Haq has fired a broadside at the incumbent and previous rulers of the country, saying that Shehbaz Sharif, Asif Zardari, and Imran Khan are more dangerous than the atom bomb which was dropped by the US on Hiroshima.
"Japan became an economic superpower after Hiroshima's destruction, but the troika – Shehbaz, Zardari, and Imran – is more dangerous than an atom bomb," the JI chief said while addressing the Inflation Convention at Allama Iqbal Town here on Sunday.
The JI chief said that the troika destroyed Toshakhana, houses, courts, economy, industries, ethics and the education system. "The troika betrayed the country's ideology and sold Kashmir together."
He said that Zardari, Shehbaz and Imran repeatedly went to America where they met with Biden and Trump, who were the US presidents of their time, but they did not talk to them even once about the extradition of Dr Aafia Siddiqui.
"If Bush, Obama and Clinton are responsible for the atrocities on Dr Aafia, the troika is also responsible for not saying a single in Aafia's favour."
Siraj said that it were the "traitors who sold Ramzi Yusuf while Abhinandan was handed over to India by the cowardly rulers". He accused the rulers of handing over Dr Abdus Salam to America.
"When Imran Khan made a statement against America, he sent his aide Fawad Chaudhry to the American Consulate and apologised."
He said, "Those generals will also answer to Allah who placed beasts on the heads of the nation and squeezed the nation by becoming an anaconda."
He said Pervaiz Elahi's government "is in Punjab, so the generals said to support Imran Khan". "The Pakistan Democratic Movement government is at the Centre so the Muttahida Qaumi Movement-Pakistan and the Balochistan Awami Party were told by the establishment to support the PDM while the Pakistan Peoples Party government in Sindh is due to the establishment."
Siraj said, "If the feeder of the establishment is removed from the mouth of the rulers, artificial leaders will end but if we get a chance, we will end the riba system."
Citing Rs900 billion debt of the Khyber-Pakhtunkhwa government, Siraj said if the JI came to power, there would be no need to borrow from the International Monetary Fund.
"If the JI gets a chance, we will put the corrupt rulers in Adiala and Kot Lakhpat jails.
"Will give youth unemployment allowance and old age allowance after coming to power."

[ad_2]
Source link