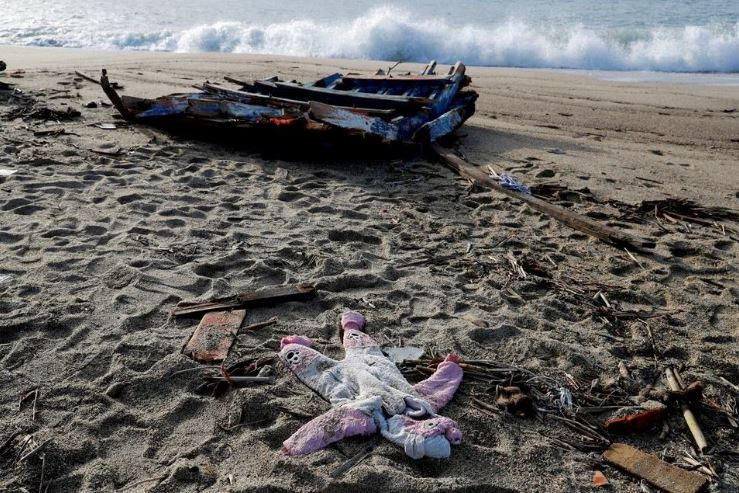 A fourth suspected human trafficker has been arrested in connection with a shipwreck off southern Italy last month in which at least 72 people died, an Italian police official said on Wednesday.
The suspect, a 27-year-old Turkish national, was caught in Austria on Tuesday evening after managing to escape the scene of the disaster in the early hours of Feb. 26, the official said, giving no further information.
Three alleged traffickers, one Turk and two Pakistanis, were detained in the immediate aftermath of the sinking after survivors identified them to police.
The wooden boat, crammed with an estimated 180 migrants, set sail from Turkey on Feb. 22 and broke apart on rocks five days later within sight of the village of Steccato di Cutro.
So far, 72 bodies have been retrieved, including those of 28 minors and 30 women. Seventy-nine people survived and around 30 are still missing.
Survivors have indicated that there was at least one other trafficker, possibly a Syrian national, who managed to escape the boat and has not yet been identified. Investigators have named only four suspects, all of whom are now in custody.
Prosecutors have launched two investigations into the disaster – one into the traffickers and another into whether enough was done by Italian authorities to avoid the tragedy.
Also read: Abraaj founder Arif Naqvi loses challenge to US extradition on fraud charges
The Italian government has denied accusations it delayed a rescue operation after receiving a report from a plane operated by the European Union Frontex border force that the boat was approaching southern Italy in rough seas.
Prime Minister Giorgia Meloni said on Tuesday that Frontex did not say the boat had any problem navigating, adding that Italy's coastal services had "operated in a correct fashion".
Meloni is due to hold a cabinet meeting in Cutro on Thursday and is expected to approve a bill that will increase penalties on human traffickers.


Source link