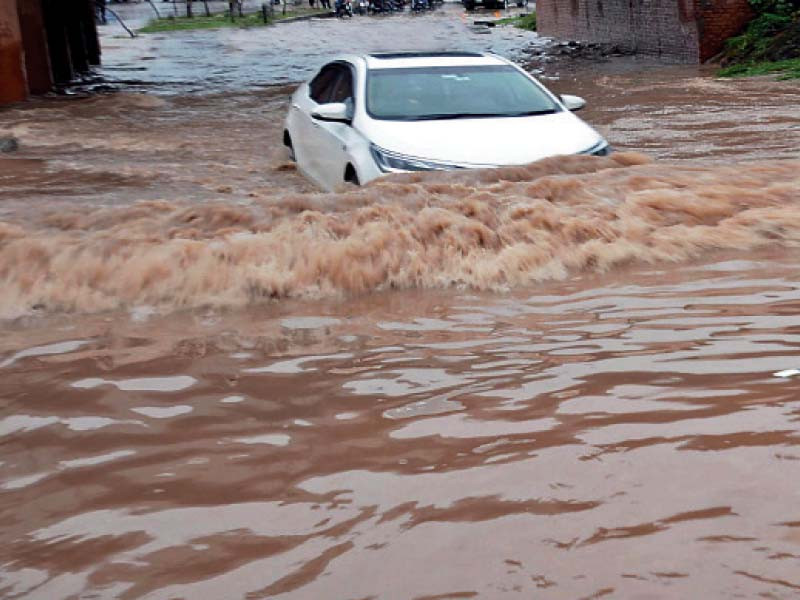 Torrential rains continue for a second day on Monday in Karachi leaving five dead in various incidents of electrocution in the past 24 hours, according to police sources.
The electrocution incidents reportedly took place in the areas of Tesar Town, Lyari, Liaquatabad and SITE.
Acting Governor Sindh Agha Siraj Durrani while expressing regret over the loss of precious human lives during the rains urged people to stay at home.
Meanwhile, due to heavy rainfall, most of the city areas remained submerged in water, with all major highways flooded and causing serious difficulties to the city's inhabitants, paralysing normal life.
Read Monsoon swamps metropolis
The Sindh government has declared a public holiday in Karachi and Hyderabad division due to rain, and government and private offices are closed.
Sadar reported the highest rainfall in the city with 217 millimeters of rain. Furthermore, residents living near suburban areas including Malir River were forced to relocate after several feet of water flooded the streets. All the while, poor drainage systems continue to add to the city's problems.
The rains are expected to continue till July 26, with the new monsoon spell in various districts of rural Sindh that may be expected by July 27.
The abysmal situation is merely a continuation of the city's woes in the monsoon season. Earlier this month, heavy rainfall had wreaked havoc in Karachi claiming lives and damaging property as the water remained accumulated in residential areas, exposing the provincial government's inadequate efforts to clear them.


Source link