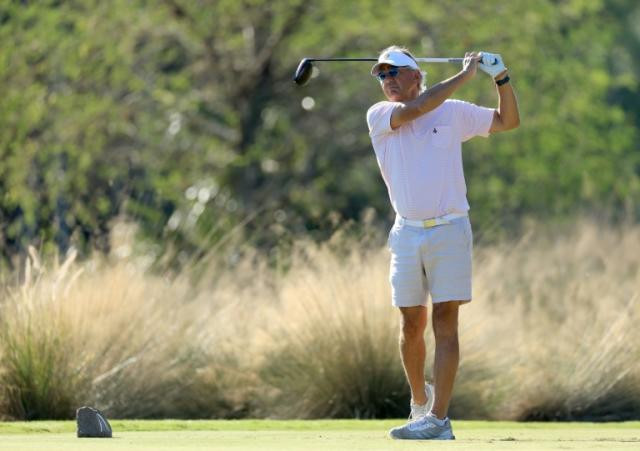 PGA of America chief executive officer Seth Waugh fanned the flames of the PGA Tour-LIV Golf civil war even as he called for civility at this week's PGA Championship.
Waugh told British newspaper The Times that players who left the PGA Tour for Saudi-backed LIV have "disappeared" and the breakaway series has no viable survival plan.
After LIV lured top PGA Tour talent with record $25 million purses and money guarantees, the PGA banned LIV players and restructured its schedule to have "designated events" with larger purses and limited fields to reward top stars.
That has left this week's showdown at Oak Hill and the other majors as the only place where LIV and PGA stars battle for bragging rights, with somewhat of a truce being called last month at Augusta National, where LIV had three of the top six finishers.
"The good news is the Masters went first and set the stage for, frankly, civility," Waugh told the Times. "That's the tone we want – nobody died, right?"
Waugh, however, ripped into LIV Golf, declaring such stars as Phil Mickelson and Dustin Johnson diminished after leaving the tour.
"I don't think division is good for the game," Waugh added. "Hopefully it's good for those individuals that have made whatever decisions they have, but the game has moved on.
"It has amplified those who have stayed and the ones who have left have largely disappeared from the landscape – in terms of an exposure perspective."
The comment came before Johnson won Sunday's LIV title in Tulsa in a dramatic playoff that went unseen in many US markets because television coverage was dropped after a storm delay pushed the finish beyond pre-set viewing windows.
"I'm really playing well," Johnson said. "The game is in good form so we'll see what happens. I feel like I'm doing everything well right now."
Waugh called the idea that fans will support LIV's team format "flawed" and said: "I don't think people really care about it and I don't see how it's a survivable business model.
"They can fund it for as long as they want to, but no matter how much money you have, at some point, burning it doesn't feel very good. I don't see they are accomplishing much."
LIV Golf and the PGA Tour have taken their fight to court but a trial is at least a year away.
In the meantime, the majors have kept their qualifying criteria and remain open to LIV talent, but the fact the Saudi-backed events aren't awarded ranking points could slowly trim LIV players from the majors.
Waugh, also a governing board member for the Official World Golf Rankings, said he has problems with awarding points for LIV events, citing relegation and promotion plus the impact of team events.
"They have made a bad assumption that this will be a quick process," Waugh said. "It never has been."
German two-time major winner Martin Kaymer's withdrawal trimmed the number of LIV players in the field of 156 to 17, including six major winners with a combined 15 major titles.
Six-time major champion Mickelson and four-time major winner Brooks Koepka shared second place behind Spain's Jon Rahm at the Masters, with LIV's Patrick Reed tied for fourth.
World number one Rahm could be overtaken for the top spot at Oak Hill by world number two Scottie Scheffler, last year's Masters champion.
Forecasts are for cold and rainy conditions during competition days.
Mickelson is playing the PGA for the first time since winning the 2021 event at age 50 to become golf's oldest major winner.
He skipped last year's PGA and Masters before making his LIV debut last June after calling the breakaway circuit's Saudi backers "scary" over human rights issues and saying he backed the series for leverage against the PGA Tour.
Two-time major winner John Daly withdrew from the field on Monday, allowing German alternate Stephan Jaeger into the field.
Tiger Woods, a 15-time major champion, is out after ankle surgery following his withdrawal from last month's Masters.


Source link