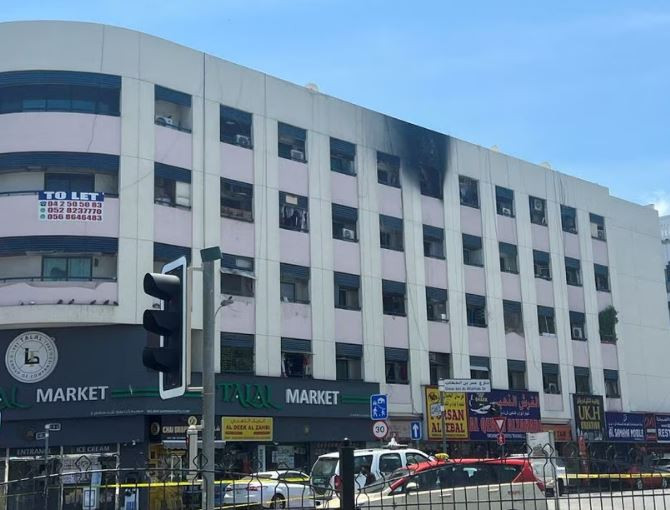 Three Pakistani nationals have been identified among 16 persons who died in a fire in a Dubai residential building, local newspapers said on Sunday citing the Dubai Civil Defence.
At least nine other people were also injured in the fire on Saturday afternoon which engulfed the five-storey building in the Al-Ras neighborhood, one of the oldest parts of Dubai and home to many migrant workers and traders, according to Abu Dhabi-based newspaper The National.
"Preliminary investigations showed that lack of compliance with building security and safety requirements caused the fire," the National reported citing a civil defence statement.
Hassan Afzal Khan, Pakistan's Consul General in Dubai, confirmed the death of three people, saying they were relatives and were living in the same building.
Also read: At least 14 die after allegedly consuming spurious liquor in eastern India
The three men belonged to Khyber Pakhtunkhwa's Dera Ismail Khan district. He said htat one of the victims was a bachelor and the other two were married.
He further clarified that the names of the two victims' fathers are similar, but they are not brothers.
However, their family members are currently here and the mission is in touch with them, he said, adding that close family members of the victims in Pakistan have been informed about the unfortunate incident.
"The dead bodies are in a local hospital and they will be repatriated in a day or two to their families after the completion of the procedures," Khan told a local daily.
Every year, Pakistani missions in Dubai and Abu Dhabi repatriate the bodies of hundreds of nationals who die in the Emirates in cooperation with the national carrier Pakistan International Airline (PIA) free of cost.
Dubai, one of the seven emirates of the United Arab Emirates, has a population of around 3.3 million, of whom almost 90 percent are foreigners.
The city has experienced spectacular fires in the past, causing extensive damage but few casualties.
In 2017, the authorities announced the adoption of stricter building regulations to minimise the risk of fire, attributed mainly to flammable materials used in the exterior cladding of buildings.


Source link