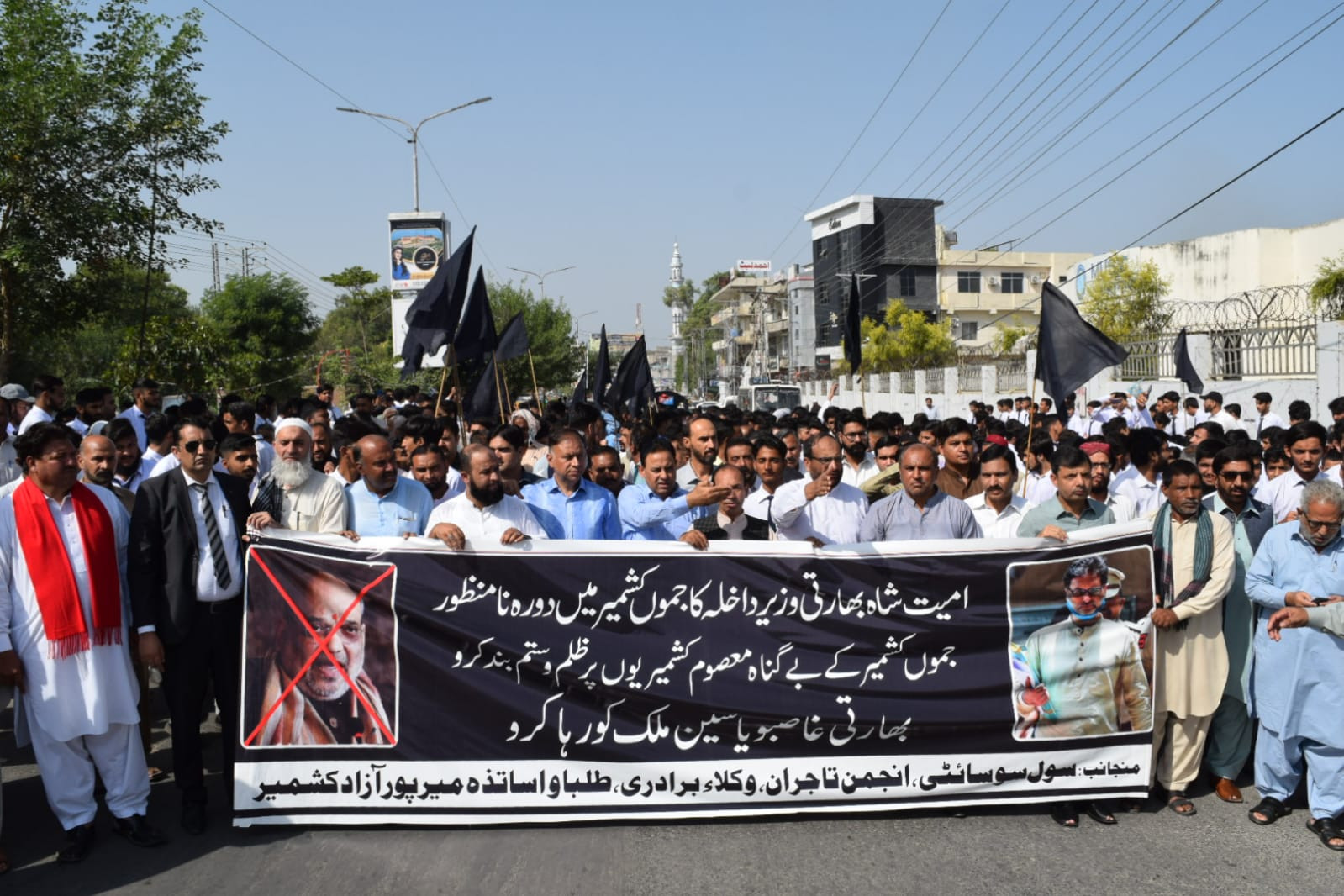 Thousands of people in seven cities of Azad Jammu and Kashmir (AJK) took to the streets to condemn the visit of Indian Home Minister Amit Shah to Indian Illegally Occupied Jammu and Kashmir (IIOJK).
The massive anti-India rallies were taken out from Sudhanoti, Mirpur, Muzaffarabad, Kotli, Bagh, Haveli and Rawalakot.
Besides local people students, traders, and members of civil society also joined the protests to condemn Shah's IIOJK visit.
Anti-India and pro-freedom slogans were chanted like 'we want freedom', ' stop state terrorism in Kashmir ' and ' go India go back'.
The protester put the effigies of Amit Shah and Indian Prime Minister Narendra Modi on fire to record their protest against Shah's visit.
Thousands of protesters took to the streets of Azad Jammu and Kashmir to condemn Indian Home Minister Amit Shah's visit to IIOJK. The protesters affirmed that "the Kashmiri people will never compromise on the right to self-determination."#etribune #news #IIOJK #AJK pic.twitter.com/aF58Vb6S5i
— The Express Tribune (@etribune) October 5, 2022
Read more: Complete shutdown to be observed in IIOJK against Amit Shah's visit: Bhat
Speakers, while addressing protesters, said that India is an occupant of IIOJK and has martyred more than one hundred thousand innocent Kashmiris for demanding the implementation of UN resolutions on IIOJK. All martyred were unarmed and political workers.
"We are here to convey the message to Amit Shah that if you have mass support in IIOJK then why Srinagar administration forced government employees to join Shah's rallies in Jammu and Kashmir?
How long India will keep Kashmiris salve at gun point? On the arrival of Shah to Srinagar, three innocent Kashmiris were martyred in Pulwama. We want to send a message to India that Kashmiri people will never compromise on the right of self-determination," said another speaker.
The other speakers unanimously demanded the implementation of UN resolutions on IIOJK to bring peace and tranquillity to South Asia.
The speakers further said that Kashmiris are peace-loving but their commitment to peace should not be considered a weakness.
Global powers should come forward and put pressure on India to stop human rights violations in IIOJK, they added.


Source link