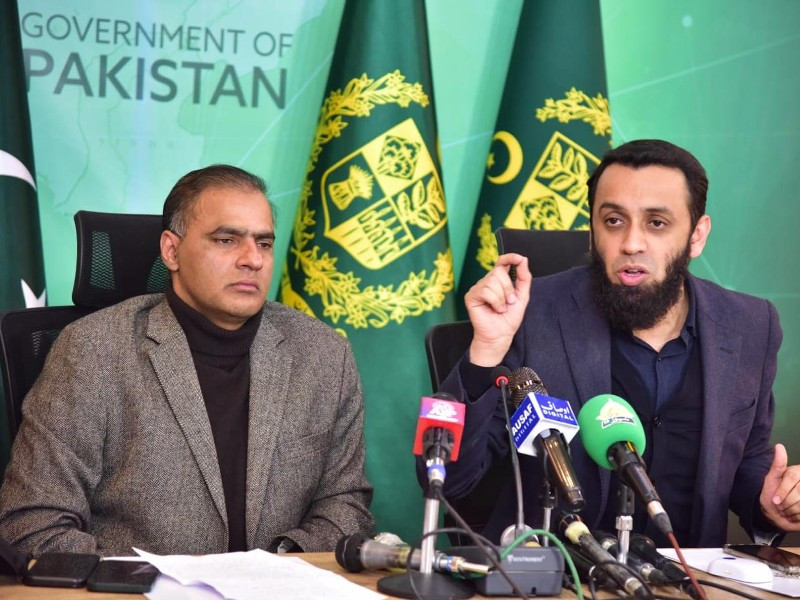 [ad_1]
Special Assistant to the Prime Minister (SAPM) on Interior and Legal Affairs Attaullah Tarar on Wednesday said that the incumbent government did not believe in political revenge and victimisation but those threatening the officials of constitutional bodies would have to face legal action.
Addressing a press conference along with PML-N leader Abid Sher Ali, the SAPM said that Islamabad police registered the First Information Report (FIR) against Fawad Chaudhry following the application of the Secretary Election Commission of Pakistan (ECP).
He said that the PTI leader used objectionable language and even threatened the head of the ECP, its members, officials and even their families in his interaction with the media in Lahore.
He said that ECP was a constitutional body and it was a sheer violation as per Pakistan Penal Code (PPC) to threaten such bodies or their officials. He said that Chief Election Commissioner was appointed by PTI after a consultation process and Fawad Chaudhry participated in the process.
Read more: Islamabad court approves two-day physical remand of PTI leader Fawad Chaudhry
He said that there could not be any dual standards in the provision of justice as one of the PML-N senators, Nihal Hashmi, had faced imprisonment for six months and was disqualified from his Senate seat for using objectionable language in the past.
The SAPM said that the law should take its course if anyone is found involved in threatening the institutions and no dual standard would be adopted in such cases.
During the press conference, two video clips were also screened in an attempt to show Fawad Chaudhry threatening ECP officials and their families of dire consequences over the appointment of caretaker chief minister in Punjab.
Tarar said that, after the appointment of PTI nominee Hassan Askari as caretaker chief minister of Punjab at the time of the last general elections in 2018, the PML-N did not use any such language against the constitutional body.
Tarar said that the PML-N leadership including Shehbaz Sharif, Nawaz Sharif, and Marriyum Nawaz had to face imprisonment in fake cases while other leaders including Nihal Hashmi, Daniyal Aziz and Talal Chaudhry were disqualified as senators.
Also read: LHC dismisses 'inadmissible' plea to recover Fawad Chaudhary
The special assistant said that legal action should be taken without any discrimination. He said that the judiciary would have to review how one can be exempted after threatening the officials of constitutional bodies. He said that the arrest of Fawad Chaudhry should be dealt with as per the law instead of creating any 'poetic hype'.
The special assistant said that Fawad Chaudhry would have to tender an unconditional apology and the myth about `untouchable PTI leaders' would be eliminated through legal action.
He said that former Chief Justice Saqib Nisar legalised the offshore companies of former Prime Minister Imran Khan and declared him `Sadiq and Ameen' which was totally against the spirit of justice.
He said that Imran Khan had been found guilty in foreign funding and Toshakhana cases and he should be imprisoned in the cipher case propaganda and disqualified for concealing his alleged daughter's name.
Tarar said that PTI had no political struggle and it came into power through "manoeuvring" against the wishes of the public. He said that FIR against Fawad Chaudhry invoked different sections including 124-A (sedition) of the Pakistan Penal Code and he would be produced in court in Islamabad for action as per law.
Senior PML-N leader Abid Sher Ali said that Chaudhry Fawad would have to face the music on hurling threats to state institutions and challenging the writ of the law.
He said that the practice of abusing state functionaries and desecrating state institutions would not work anymore as the government had decided to enforce the writ of law with full force. Fawad Chaudhry would be dealt with as per the law of the land as he had threatened the institutions, he added.
Vehemently brushing aside the impression of political victimisation of Fawad, he said the PTI leader had brazenly committed a violation of the law and must not be spared. A person attacking state institutions would land straight in jail, irrespective of his position or status, he added
He said that Imran Khan had destroyed the economy and pushed the country to the brink of default. Imran also promoted the culture of abusing opponents, he added.
The PTI's government in Punjab led by Usman Buzdar had mercilessly looted the province through their front women Farah Gogi and others, he said, adding that former prime minister Nawaz Sharif was disqualified on flimsy grounds.
Castigating the former premier, he said that the Imran-led government laid economic landmines to malign the image of the successors. He was ousted from the government to save the country from any disaster, he added.

[ad_2]
Source link