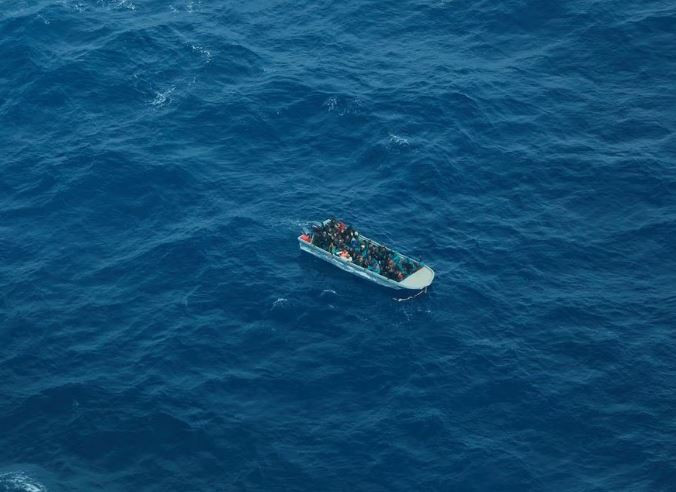 Thirty people are missing and 17 were rescued in the central Mediterranean on Sunday after the boat in which they were travelling from Libya capsized in bad weather, Italy's coastguard said.
The tragedy comes just weeks after a Feb. 26 shipwreck near the southern region of Calabria, in which at least 79 died.
Alarm Phone, a charity that picks up calls from migrant vessels in distress, assumed the 30 people were dead and blamed Italy for not sending its coastguard despite being repeatedly alerted on Saturday that the boat was in trouble.
"Clearly, the Italian authorities were trying to avoid that the people would be brought to Italy, delaying intervention so that the so-called Libyan coastguard would arrive and forcibly return people to Libya," it said in a statement late on Sunday.
However, Italy's coastguard said the capsizing occurred outside the Italian Search and Rescue area (SAR), and Foreign Minister Antonio Tajani said Rome was doing all it could to avoid shipwrecks.
"We have always argued that it's necessary to stop the departures of unseaworthy vessels," he told Il Messaggero daily on Monday.
"It seems to me that everything that our coastguard, our navy and our finance police are doing is to be praised," he said, adding that Rome and the European Commission were supplying Libya with more patrol boats.
Also read: Boat packed with 500 migrants needs rescue off Sicily
Rescue operations were ongoing late on Sunday, supported by merchant ships and aerial support by the EU's border agency Frontex, while two further merchant vessels were en route to the area, the coastguard said in a statement.
Migrants arrival surge
Earlier on Sunday, the Mediterranea Saving Humans charity had tweeted that according to several sources, the vessel, travelling in the direction of Italy, had capsized about 110 miles northwest of Benghazi.
After an initial rescue attempt by a merchant ship failed due to bad weather, Libyan authorities asked Rome for help given that they lacked the means to carry out the rescue, the Italian coastguard said in the statement.
Rome then requested merchant ships in the area to join the rescue efforts. However, the migrant vessel capsized during an attempt to transfer the people on to the "FROLAND" merchant ship on Sunday morning, it said.
Rome's ability to rescue migrants at sea has come under scrutiny following last month's shipwreck and the issue is piling pressure on the rightwing government which took office last October promising to curb the influx of migrants.
Instead, arrivals have surged, with 17,600 people reaching Italy this year as of March 10, compared to 6,000 in the same period of 2022, official figures show.
Elly Schlein, the newly elected leader of the opposition Democratic Party, said the shipwrecks were "shameful for Italy and for Europe", and held a minute's silence during her maiden address to the PD leadership in Rome.
On Saturday, the coastguard said that more than 1,300 migrants had been rescued in three operations off the southern tip of Italy, with a further 200 saved off Sicily.


Source link