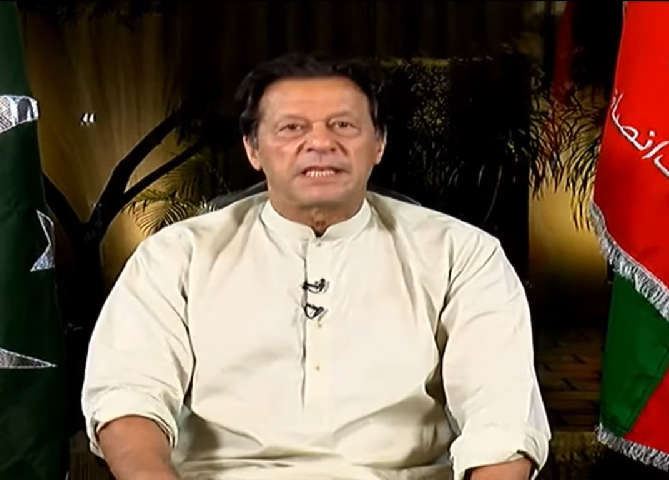 The Pakistan Tehreek-e-Insaf (PTI) Chairman criticized Prime Minister Shahbaz Sharif and other party leaders for holding a meeting in London to decide Pakistan Army's next chief as he addressed participants of the party's Haqeeqi Azadi March in Lala Musa.
"The important decisions of the country are taken abroad and by those who have looted Pakistan for the last 30 years," said the PTI chief in reference to Shehbaz purportedly discussing the key appointment and other issues of national importance with his elder brother Nawaz Sharif during his unscheduled London visit.
ہماری نیشنل سیکیورٹی کے سب سے اہم عہدے آرمی چیف کی تعیناتی کا فیصلہ لندن میں ہو رہا ہے اور جو یہ فیصلہ کر رہا وہ سزا یافتہ، مفرور، جھوٹ بول کر جو باہر گیا، اسکے ساتھ اسکے بیٹے جو کہتے ہیں ہم پاکستان کے شہری نہیں یعنی اس وقت ملک کے مستقبل کا فیصلہ چوروں کا ٹبر کر رہا ہے۔ عمران خان pic.twitter.com/Fic0ApnrXX
— PTI (@PTIofficial) November 12, 2022
The PTI chairperson also reiterated that the army chief should be appointed on merit and said dismissed allegations that he was making the important appointment controversial. "I never made it controversial".
He added that he does not want a NAB chief, a judge or an army chief of his choice as he wants "the best people on the basis of merit".
Speaking on the defamation suit filed by the premier against a British daily, Imran said Shehbaz was in "deep trouble".
Chairman PTI @ImranKhanPTI talks about Shehbaz Sharif's case in UK's court. #حقیقی_آزادی_لانگ_مارچ pic.twitter.com/9F5IWJ1U9d
— PTI (@PTIofficial) November 12, 2022
He further said that the PML-N president was mistaken if he could issue orders as per his will and "it will be the biggest challenge for Shehbaz Sharif" as now he has to explain the allegations leveled against him by the British publication.
Lala Musa is ready for Kaptaan! Shortly, Chairman will address the gathering at Lala Musa and Jhang. #حقیقی_آزادی_لانگ_مارچ pic.twitter.com/OqJ1ix14PE
— PTI (@PTIofficial) November 12, 2022
Asad reaches Jhang
Kickstarting the march in Jhang today, PTI secretary general Asad Umar stated that Imran Khan believes the next chief of army staff (COAS) should be appointed based on merit.
Further, he slammed the PML-N leaders "sitting in London, making decisions for Pakistan". Referring to Nawaz Sharif, he said that the leaders were seeking advice from "a thief who fled the country".
Responding to a question, Asad said that the PTI had not "started a war to come into power", and highlighted the party's successes including the victory by a great lead in the Punjab elections on July 15.
Speech by Secretary General PTI @Asad_Umar in Jhang today. #حقیقی_آزادی_لانگ_مارچ pic.twitter.com/w8a4J4RBvw
— PTI (@PTIofficial) November 12, 2022
The PTI leader had reached Jhang earlier today, where he received a warm welcome by a crowd of supporters.
Secretary General PTI @Asad_Umar reached Jhang, where he was welcomed by a huge crowd! #حقیقی_آزادی_لانگ_مارچ pic.twitter.com/YecAzxBetM
— PTI (@PTIofficial) November 12, 2022
He visited the shrine of Hazrat Sultan Bahu ahead of resuming the march for the day.
پاکستان تحریک انصاف کے جنرل سیکرٹری اسد عمر لانگ مارچ کیلئے جھنگ سلطان باہو پہنچ گئے ،
دربار شریف سلطان باہو پر حاضری دی- #حقیقی_آزادی_لانگ_مارچ pic.twitter.com/JubgrMJKGK
— PTI (@PTIofficial) November 12, 2022
Asad said that "Haqeeqi Azadi was not just Imran Khan's war" but that the "people of the country are also an equal part of it". He urged the PTI supporters to stand by their party leader.
Read LHC declines request to halt PTI's long march
Further, PTI leader Faisal Javed Khan said that Imran will address the marchers today via video link in Lala Musa, adding that "the sea of people will turn towards Islamabad under the leadership of Imran Khan" where a peaceful protest will take place.
کپتان آج انشاء اللہ #حقیقی_آزادی_لانگ_مارچ کے شرکاء سے لالہ موسیٰ میں ویڈیو لنک پر خطاب کرینگے-عوام کا سمندر عمران خان کی قیادت میں اسلام آبادکا رخ کریگا-مارچ میں عوام بالخصوص فیملیز کی ریکارڈ شرکت -اسلام آباد میں عدالت کی مختص کردہ جگہ پرتاریخی اور پرامن احتجاج ہوگا- انشاء اللہ
— Faisal Javed Khan (@FaisalJavedKhan) November 12, 2022
'Imran soon to become PM again'
In a tweet, PTI Vice Chairperson Shah Mehmood Qureshi – leading the procession at Lala Musa – said he believed that not only will "our movement for 'real freedom' be successful, but Imran Khan will also soon become the country's prime minister again".
"Salute to the passion and spirit of the people of Gujarat," he tweeted, adding that the next stop will be Lala Musa.
گجرات کے عوام کے ولولے اور جذبے کو سلام۔ شہر شہر ایک ہی آواز ھے وزیرِاعظم عمران خان۔ میرا یقینِ محکم ھے کہ نہ صرف ہماری حقیقی آزادی کی تحریک کامیاب ہوگی بلکہ بہت جلد عمران خان ایک بار پھر وزیراعظم پاکستان ہونگے۔
اگلا پڑاؤ : لالہ موسیٰ۔
#آرہا_ہے_پاکستان
— Shah Mahmood Qureshi (@SMQureshiPTI) November 12, 2022
'Lala Musa last pit stop'
Earlier in the day party leader Musarrat Cheema tweeted that Lala Musa was the last pit stop, adding that a second procession will march from Jhang, under the leadership of PTI secretary general Asad Umar.
She said that besides the two main processions, caravans of party supporters were also heading towards the federal capital from across the country under the leadership of party's central figures.
"Everyone will reach Rawalpindi together, God willing," she added.
حقیقی آزادی مارچ کا گزشتہ روز لالہ موسی میں آخری پڑاؤ تھا جو کہ آج وہیں سے دوبارہ آغاز ہوگا.
اس کے علاوہ اسد عمر صاحب کی قیادت میں جھنگ میں بھی مارچ کیا جائے گا.
ملک کے مختلف علاقوں سے مرکزی لیڈرشپ کی قیادت میں قافلے نکل رہے ہیں اور انشاءاللہ سب ایک ساتھ راولپنڈی پہنچیں گے.
— Musarrat Cheema (@MusarratCheema) November 12, 2022
The march
The PTI long march resumed on Thursday, a week after the assassination attempt on Imran Khan that had earlier brought the march to a halt. The march was split in two processions.
The first continued from Wazirabad, the site of the attack on Imran, and was led by PTI Vice Chairperson Shah Mehmood Qureshi. The second rally departed from Toba Tek Singh a day later, led by Asad Umar.
After his speech at Toba Tek Singh, Asad led the crowd to Gojra, where he was welcomed outside Hamza Usman's residence.
At a public gathering in Gojra, Asad said that "the march is now taking place throughout the country" and that Imran will "finally lead participants from all over the country from Rawalpindi to Islamabad".
In his speech, the PTI leader advised Interior Minister Rana Sanaullah to be prepared to leave the government with all his allies rather than continuing to hold illusions of torturing marchers.
Asad said that the long march will force the country's "imported" rulers to call for general elections, in which Imran will win with a "majority of more than two-thirds".
Other party leaders, including PTI leader Shahbaz Gill were present. After the speech, the marchers continued the procession from Toba Tek Singh to Kamalia via Rajana and Pirmahal.
PTI Vice Chairperson Shah Mehmood Qureshi led the rally from Wazirabad towards Gujrat where party chief Imran Khan addressed the participants of the long march via video-link.


Source link