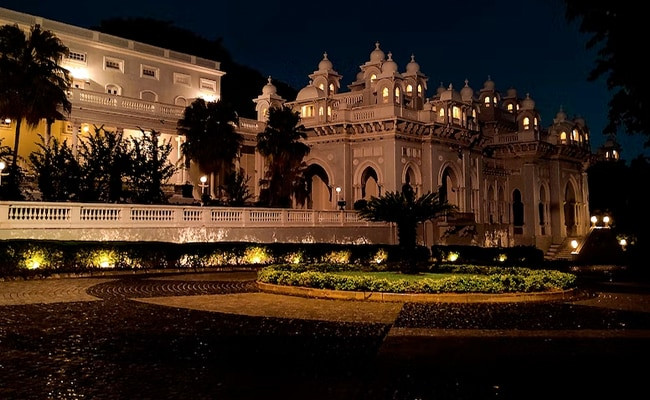 In the year, prior to the appearance of the "Butcher of Gujrat" in New Delhi, I had the pleasure to visit Hyderabad (Telangana), twice, on business. Each visit was about five days, yet I was able to discover a lot of sights, of both historical and culinary value. After Bangalore, Hyderabad has emerged as the IT city of India and has become a 'must-stop' for politicians and business tycoons.
After a long siege, the Mughal Emperor Aurangzeb dislodged the Bijapur dynasty in 1687AD, and Asaf Jah was nominated as prime minister, who later declared himself independent and assumed the title of the Nizam of Hyderabad.
It is said that a fakir who was entertained to lavish seven chapatis (flatbread) by Asaf Jah, invoked a prayer and then foretold that his dynasty would last for seven generations. His dynasty lasted from 1724-1948 AD, covering 224 years.
The city originally known as 'Bhayannagar' was named after Bhagmati, a local dancer of her time. In 1512 AD, the Bhahamimi dynasty was overthrown by Quli Qutub Shah, when he established the fort city of Golconda and renamed it as Hyderabad.
Legend has it that the young and dashingly handsome Sultan rode out from Golconda to meet his beloved, braving the flood waters of River Musi. He gave his beloved the name of Hyder-Mahal and the city got baptised as Hyderabad, in her honour. Golconda mines were then, the, only known diamond mines in the world. The 7th Nizam used a 1,000 crore rupees worth of Jacob diamond as a paper weight.
The reign of Mir Osman Ali Khan, the last Nizam of Hyderabad, was the longest, lasting 37 years. Upon the death of the sixth Nizam, Mehboob Ali Khan in 1911, 25-year-old Mir Osman was coronated as the Emperor of Hyderabad. The British who were after his riches, lured and titled him 'His Exalted Highness.'
The Asaf Jah dynasty traced themselves as the descendants of the First Caliph of Islam, and were of Turkish origin, the lineage was traced to the Hadhrami tribe of Arabia. Mir Osman Ali Khan is reported to have had many children, legitimate and otherwise, but the ones recorded in official history are his two sons, Azam and Moazzam Jah, and a daughter Shehzadi Pasha, all from Azmat, his first wife. Both sons were born in Nice, in the South of France. Azam Jah married Durreshehvar, the only daughter of Caliph Abdul Mejid II, the last Ottoman Emperor. Her father fondly called her 'Nagina'. They had two sons, Mufakham and Mukkaram Jah and the latter became the 8th Nizam of Hyderabad, chosen by his grandfather to inherit the kingdom.
For his second son, Moazzam Jah, the Nizam, chose Durreshevar's first cousin, Princess Nilofer to become his second daughter in law. Princess Nilofer was known for her beauty. These two marriages brought Turkish influence on the culture of Hyderabad. A classic example is the widespread use of the Rumi topi (hat). Turkish delicacies became part of the Hyderabadi cuisine. Both the ladies are recognised by their contributions towards the economic and social development of women.
Mir Osman Ali Khan had inherited vast sums of wealth. His possessions included precious stones, metals, gold and diamonds worth millions of pound sterling and whose weight was unimaginable. In his era, he was the richest man in the world. Despite being wealthy, he was frugal, to the extent of being recognised as miserly, clad in sherwanis with tattered collars. He exhibited his regal status with amazing humility and simplicity, and largely survived on tea and biscuits, home baked by his daughter. He was internationally known and in 1937, made it to the cover of the Time magazine.
Osman Ali Khan's miserliness was limited to himself, but when it came to spending on the welfare of his people, his generosity knew no bounds. He is believed to have been an extremely benevolent king who patronised education, science and economic development. In his 37-year rule, Hyderabad witnessed more progress than it ever achieved under the earlier six Nizams and became the cultural capital of south India.
He built roads and airports, and provided electricity even in rural areas. Huge reservoirs and irrigation projects were completed during his reign. The Nagarjunasagar dam construction started before 1948. Osmania University, several colleges and schools were founded throughout the state, and for the very first time science subjects, including medicine, were taught in Urdu. In praise of this first vernacular university, Rabindarnath Tagore wrote "I have been long waiting for the day when, free from shackles of foreign language, our education becomes naturally accessible to our people'.
Osman Ali Khan started his own bank that functioned both, as a central and commercial bank, presently known as the State bank of Hyderabad. The Hilali (Osmania Sikka) currency was managed by this institution. Hyderabad was the only state in British India to have had its own currency.
He was keenly interested in social development. The Osmania General Hospital, the high court, Central State Library, and many other buildings including the sprawling Bagh-e-Aam (public garden) with its own zoo are tourist attractions, to this day.
The many marriages of the Nizam were looked upon as brazen polygamy, however, these overtures were always in conformity with the shariah. He was never in breach of the religious injunctions relating to the number of wives permitted at any one time. His harem was a maintenance hostel for destitute women. The objective was largely to provide such women sanctity within the realm of acceptable societal norms. The harem has been estimated to have 3000 women to as low as 100. He adopted orphan boys who were referred to as khanzadas who attended vocational school.
This richest man with diminutive height similar to Napoleon Bonaparte, stood tall amongst the Muslims, as one who gave unflinching support to the concept, and later to the reality of Pakistan. He exhibited simplicity and indulged in writing poetry in Persian and Urdu. Makhdoom Mohiyuddin, the revolutionary poet of Hyderabad who had actually challenged the Nizam, had on many occasions called for putting together verses composed by the Nizam, for he feared that time in its ruthless assault would efface his works. That's exactly what happened as there are no manuscripts of his works.
He followed a strict regimen relating to work ethics. Being a man of restless energy, the Nizam worked from early morning till late at night. He had no hobbies and kept a strict watch on administration with focus on the machinery being economical. Austerity in governance was his hallmark.
Hyderabad created popularity for Urdu language and later, it served as its refuge. Lucknow and Hyderabad, even during the Mughal period, were known for their cultural superiority, while maintaining some ethos of the royal Delhi court. Urdu was spoken by all, regardless of their religion, creed or caste.
In 1591, Quli Qutub Shah built the Charminar, a beautiful colossus in granite, lime, mortar and according to some archaeologists, pulverised marble. The squarish structure with four towers placed on each corner at 20 metres' distance, opens on each side into a plaza through giant arches which are shorter than the minarets. The four-storeyed minarets soar skywards by 24 metres from the roof of Charminar, and are 48.7 metres tall. Climbing the 149 steps inside the minarets, one gets to see a panoramic view of the city. The market place around Charminar brings to mind the legendary bazaars of Cairo, Damascus and Istanbul.
At the time of its subsequent inclusion into the Indian union, Hyderabad dominion was as large as the present-day France. A mix of multicultural traditions, Hyderabad to the people of UP and Northern states then was what Dubai is to most Pakistani workers today. The fusion of culture of Hyderabad and Lucknow is still existent, but waning.
My father being a civil servant served a couple of years in Hyderabad and was a neighbour to the Nizam of Hyderabad for a couple of years. Living opposite King Kothi, he watched history being made at close quarters.
In September 1948, barely three weeks after the death of M.A. Jinnah, the Indian home minister, Vallabhbhai Patel ordered police action called "Operation Polo" to annex Hyderabad, which was later submerged as part of India.
I learnt from my father that the Nizam was a great supporter of Pakistan's creation. Mr Jinnah had visited him just once, and historical evidence indicates that they did not click on a personal level. But the Nizam laid open the coffers of his kingdom for Mr Jinnah's Pakistan.
In the initial years, post-independence, the nascent state suffered from serious financial issues, due to massive exodus of the trading community and Hindu merchants to India. The Muslims had not made any name for themselves in business, and were largely in the administrative services of British India. There was no bank registered in the new country. In dire financial straits, Pakistan looked at the Nizam for monetary help who generously obliged. Every week from Hyderabad to Karachi, he would send tons of cash via an airplane flown in by Captain Sidney Cotton, a British pilot. This activity was done surreptitiously at night and Cotton would ensure flying at low heights to avoid appearing on Indian radars. Zahid Hussain, the first governor of the State Bank of Pakistan served as finance secretary in Hyderabad government and that Governor-General Ghulam Mohammad served as finance minister in Nizam's cabinet.
Unfortunately, history has not done justice to the two financial providers, the Nizam of Hyderabad and Raja Sahib of Mehmoodabad. Both gave much of their belongings to the state, while the subsequent and current leadership, instead of giving to the country, takes away all for themselves.
No account of Hyderabad can be complete without the mention of the delicious Hyderabadi cuisine. Between the two visits I devoured at the Secunderabad Club, courtesy of a friend, the delicious pathhar kabab, bhagaire baigan, dum ka keema, mirch salan and double ka meetha are unforgettable.
The 7th Nizam Mir Osman Ali Khan passed away after a brief illness on 24th February, 1967. He had made a bequest to be buried in a grave next to his mothers' at the Judi mosque, opposite King Kothi, built upon a hillock. His funeral service was marred by the massive crowd that had come to pay respect and homage to their beloved king. Later, his grandson Prince Mukarram Jah was formally coronated as the 8th Nizam. Princess Asra who he later divorced was his first wife. Mukarram Jah died recently at the age of 89 in Istanbul and was buried in Makkah Masjid alongside the previous Nizams.
The eldest son of Mukkaram Jah, was bestowed the title of being the 9th Nizam, with no official recognition. After the abolition of the royal privy purses in 1971, all royal titles were withdrawn by the government. Narendra Modi's government has further enriched itself by swallowing what remains of Mir Osman Ali Khan's immeasurable and unestimable wealth.
The writer is a senior banker, an author, and contributes regularly to newspapers. He can be reached at azizsirajddin@gmail.com. All information and facts are the sole responsibility of the writer


Source link