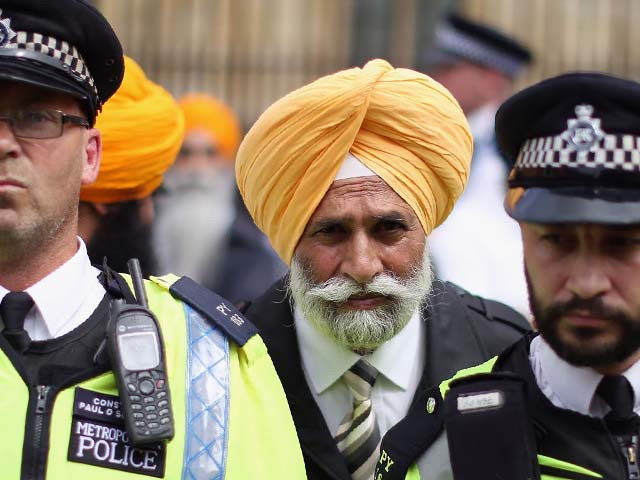 The plight of the Sikh community

The news of Dr Kalyan Singh Kalyan becoming the first Sikh in Pakistan to complete a PhD has swollen the hearts of the Sikh community with pride. Kalyan, also the country's first Sikh assistant professor, submitted a 600-page dissertation titled The Philosophy of Humanity in Guru Nanak's Teachings. While this achievement was being lauded by the global Sikh community, a recent tragedy served as a painful reminder of the hardships they still face. The killing of a young Sikh girl in British Columbia, Canada has once again sent waves of terror among the Sikhs, especially those who travel across continents for the accomplishment of their dreams.
On February 26, 2022, Harmandeep Kaur was working the night shift as a security guard at the University of British Columbia (UBC) Okanagan campus when she was assaulted and killed. The 24-year-old student of Okanagan College had recentlyreceived her permanent residency card. A fundraiser in her name indicates that she had been in the country for five years and had aspirations to be a paramedic. The Sikh community across the globe is distressed after this heart-wrenching incident since many young girls and boys travel to Canada to avail supposed better opportunities.
The question we must ask is, why are Sikhs becoming the target of racial attacks despite always being at the forefront during humanitarian crises in Yemen, India, Canada and Syria. Time and time again our ethnic identity has become a reason for aggression and attacks aimed at us. Racial slurs, prejudice, disparity, religious bigotry and attacks on our articles of faith are some of the many forms of discrimination that we face on a regular basis.
What's worrisome in Kaur's case is that there are plenty of jobs available to help new residents offset the high cost of living but some of these jobs are also putting them in a vulnerable position. The fact that Kaur was working as a security guard at UBC Okanagan reflects how the pressure of dealing with a high standard of living along with pursuing an educational degree in Canada makes young immigrants particularly vulnerable to taking up high-risk jobs.
Unfortunately, what happened to Kaur is not an isolated incident. A few months ago, Ashmeet Singh, who was only 16 years-old, was stabbed to death in London over a fake Gucci bag he was wearing. Shockingly, he was the 28th teenager killed in London in 2021. Reasons vary but the victims remain the same – Sikhs. Ironically, the afflictions of South Asian Sikhs receive coverage around the globe but what happens to them in the West is rarely discussed.
Our religious identity has always attracted a racial blitz in the form of attacks, killings, anti-Sikh graffiti, racist slurs, and the banning of the kirpan. Following 9/11, there was an increase in hate crimes and discrimination against Sikhs across the United States. On September 15, 2001, Balbir Singh Sodhi was shot and killed in broad daylight while arranging American flags outside his gas station in Mesa, Arizona. He was killed because his murderers thought he was a Muslim.
While there has been some communal backlash against these killings over the years and many people have stood up against such racist attacks, ultimately all the victims receive is sympathy and empty promises. This callous attitude towards this systematic racism is exacerbated by politicians who use the Sikh community as nothing more than a vote bank, as shown by individuals like Jagmeet Singh.
Stern actions have to be taken against the perpetrators of these crimes. We are the fifth largest religion in the world and yet we remain one of the biggest victims of xenophobic, bigoted attacks. Many more Sikhs like Kaur are gradually becoming victims of this racist mind-set, and if we do not want such incidents to continue, the Sikh community must stand in solidarity against such hate crimes.


Source link