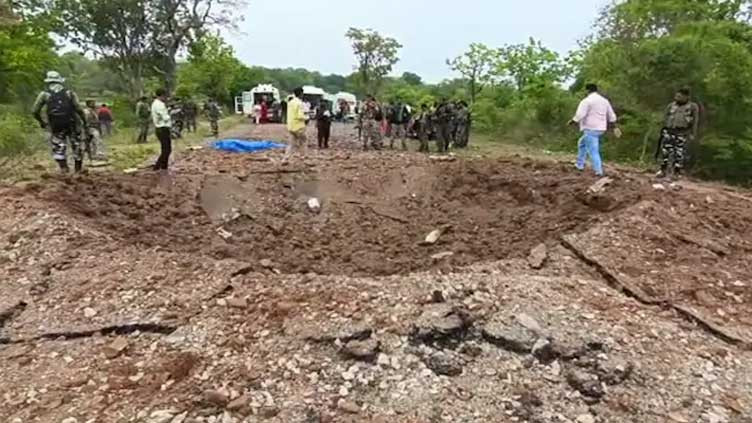 Ten policemen and a civilian driver were killed in a blast in the central Indian state of Chhattisgarh on Wednesday as they were returning from an operation against ultra left-wing guerrillas in the state, local police officials said.
Rebel Maoists are suspected of having carried out the attack in the state's Dantewada district, they said. The victims were part of the District Reserve Guard (DRG).
"When they were returning after the operation, which was carried out following a tip-off, the DRG vehicle was targeted using an improvised explosive device (IED)," Inspector General of Police P. Sunderraj said.
"Additional reinforcements and senior officers have reached the spot and the bodies of the deceased are being evacuated," he said.
Rebel Maoists, who ascribe to a form of communism developed by Mao Zedong, have been waging an armed struggle against Indian government forces for decades, particularly in rural areas of central and eastern India where they have some support.
They say they are fighting to give poor farmers and landless labourers more control over their land and a greater claim on mineral wealth currently exploited by companies.
Also read: Joy, fear as India's population becomes world's biggest
The conflict has resulted in the death of many personnel from the security forces in Chhattisgarh over the years.
The Indian home minister, Amit Shah, condemned the incident on Twitter, saying: "Have spoken to Chhattisgarh's Chief Minister and assured all possible assistance to the state government."
In April 2021, at least 22 police personnel were killed by Maoist fighters during an anti-insurgency operation Chhattisgarh's Sukma district.
In the preceding month, five policemen were killed and several others injured in a blast in the state's Narayanpur district that local police said was a Maoist strike targeting a bus carrying more than 20 police personnel.


Source link