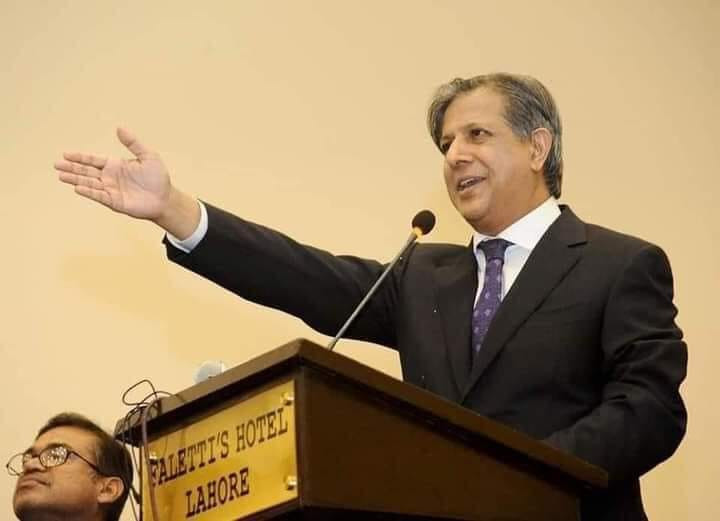 Pakistan Muslim League-Nawaz (PML-N) Senator Azam Nazeer Tarar has been reinstated as the federal minister for law and justice on Wednesday after Prime Minister Shehbaz Sharif rejected his resignation.
According to a notification from the federal government, Tarar was allocated the law and justice portfolio while Federal Minister for Economic Affairs and Political Affairs Ayaz Sadiq ceased to "hold the portfolio of law and justice".
Azam Nazeer Tarar took over his post as the law minister again after the retirement of army chief General Qamar Javed Bajwa.
Speaking to The Express Tribune a day earlier, Tarar said he had accepted to return to his former portfolio because Prime Minister Shehbaz Sharif had rejected his resignation.
Sources close to Tarar said both PML-N supremo Nawaz Sharif and PM Shehbaz had instructed him to resume working as the law minister from Tuesday.
However, he sought time to consult with his bar fellows, who also suggested he return to his former portfolio again.
Read PM, Zardari put heads together over PTI threat
It has been learned that several federal ministers visited Tarar's residence in Islamabad yesterday, requesting him to take over as the law minister.
They included Finance Minister Ishaq Dar, Interior Minister Rana Sanaullah, Information Minister Marriyum Aurangzeb, Economic Affairs Minister Ayaz Sadiq and Railways Minister Khawaja Saad Rafique.
Earlier, powerful circles were upset at the 'anti-establishment slogans' raised during the Asma Jahangir Conference last month in his presence.
During the conference, where he was the chief guest, some participants chanted anti-establishment slogans while he was delivering a speech.
Following this episode, Tarar stepped down from the post of the law minister.
Besides, lawyers had also criticised him for endorsing the nomination of 'junior judges' for their elevation to the Supreme Court.


Source link