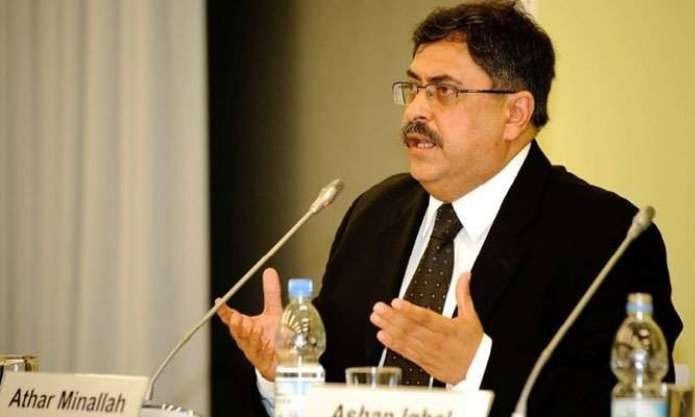 Outgoing Islamabad High Court (IHC) Chief Justice Athar Minullah on Thursday said that the 70-year-old system cannot be changed with a "magic wand".
Chief Justice Minullah, judges of the high court and representatives of the bar inaugurated the temporary legal facility centre in the new building of the IHC.
Speaking on the occasion, the CJ said that if petitioners do not get cheap and quick justice, these buildings are meaningless. Judges and lawyers exist only for the petitioners, he added.
"Do they trust us?" he asked, adding that he was not ashamed to admit that they do not trust the judiciary.
"We judges have no fear of criticism, we are not affected by criticism, nor does criticism have any effect on us," he remarked.
The top judge said that changing and reforming the 70-year-old system was necessary, and for this purpose, they have taken the federal government on board through the required paperwork.
For the first time in 60 years, the district courts are going to be completed in a record period, he remarked, adding that the projects are being completed due to the personal interest of the current government and the prime minister.
Justice Minallah said that it was their intention and goal to restore the confidence of the people in the judiciary, and political forces should also play their role in this regard.
During his speech at the opening ceremony, Law Minister Sardar Ayaz Sadiq said that a lot has changed after General (retd) Pervez Musharraf's rule. Lawyers stood up for the rule of law, he added.
Alluding to PTI Chairman Imran Khan's remarks, he said that he was sorry to hear statements in favour of martial law.
"The democratic system should be strengthened, the leaders who are talking about martial law should learn from the past, the judiciary should be respected," he said. "He who is judged in his favor is happy, he who is against him is criticised."
Upcoming chief justice Aamir Farooq, Justice Mohsin Akhtar Kayani, Justice Mian Gul Hasan Aurangzeb, Justice Tariq Mehmood Jahangiri, Justice Babar Sattar,Justice Arbab Muhammad Tahir, Sessions Judge Atta Rabbani, Sessions Judge Tahir Mehmood Khan, former federal minister Azam Nazir Tarar, Supreme Court Bar Association (SCBA) President Abid Zubair, former SCBA president Ahsan Bhawan, High Court Bar Association President Shoaib Shaheen, and Islamabad Bar Council President Hafeezullah Yaqub and representatives were also present on the occasion.


Source link