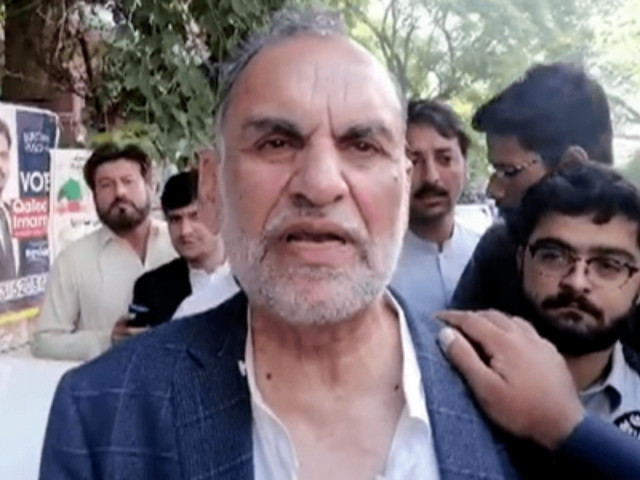 A judicial magistrate in Qambar on Sunday remanded PTI Senator Azam Swati in police custody for three days in two cases over his controversial tweets against state institutions.
Swati was arrested over a "highly obnoxious campaign of intimidating tweets against state institutions" by the Federal Investigation Agency on November 27 and is in detention since and continues to face legal action.
The FIA booked him under Section 20 of the Prevention of Electronic Crime Act 2016 (Peca), which deals with offences against the dignity of a person, while multiple first information reports (FIRs) were registered against him for using "derogatory language" and "provoking the people against the army" in Sindh and Balochistan as well.
He was presented before the judicial magistrate in Sindh's Qambar city in the two cases registered with Warah and Qambar police and sent on remand for three days.
Read more: BHC orders quashing of FIRs against Swati
The development comes two days after the Balochistan High Court (BHC) ordered the quashing of all five FIRs initially registered against him in the province over his controversial tweets.
But the same day, two new criminal complaints were lodged against the PTI senator in Balochistan's Bela and Winder for using "offensive language" against senior military officials, his lawyer Iqbal Shah said.
Also the same day, he was flown to Sindh after his custody was handed over to Sindh police.
Cases in Sindh
Qambar-Shahdadkot said two cases were registered against Swati at Naseerabad and Warah police stations in the district. The FIR at the Naseerabad police station was registered on a complaint of Zameer Hussain Khoso under sections 131 (abetting mutiny or attempting to seduce a soldier, sailor or airman from his duty), 153-A (promoting enmity between different groups), 504 (intentional insult with the intent to provoke breach of peace) and 505 (statements conducing to public mischief) of the Pakistan Penal Code (PPC).
The complainants in the FIRs were different, but the sections are almost identical, he added.
In addition to these two cases registered in Qambar-Shahdadkot, the PTI leader is also booked in similar cases at Saddar police station in Jacobabad, Usman Essani police station in Shikarpur and Civil Lines police station in Larkana.


Source link