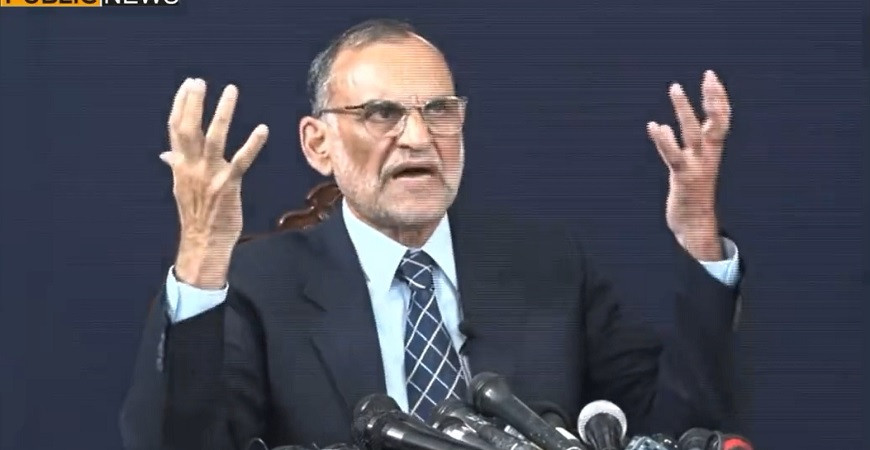 The apex court has clarified that PTI Senator Azam Swati did not stay at Supreme Court Judges Rest House during his visit to Quetta during which the senator claimed that an objectionable video was secretly recorded of him and his wife.
Addressing a press conference in Lahore on Saturday, a tearful Swati had revealed that his wife was sent an "obscene video clip" featuring the couple that was allegedly recorded when the duo visited Quetta.
"It is clarified that Mr Muhammad Azam Swati never used/stayed in Supreme Court Judges Rest House at Quetta," the top court said in a statement on Sunday.
However, according to Special Branch, Balochistan, Swati during the aforesaid visit stayed at Balochistan Judicial Academy (Judicial Complex Quetta), which is not under the control of the Supreme Court of Pakistan, it added.
The official statement referred to a press conference of Senator Swati circulating on "electronic/social media whereby it is alleged that during his stay at Supreme Court Judicial Lodges, Quetta, some objectionable video was recorded".
The Supreme Court Judges Rest House, Quetta is being managed and supervised by the Registrar Office Supreme Court of Pakistan Islamabad and is meant for the use of serving and former Judges of the top court, the statement said.
Narrating his ordeal, the PTI Senator had said that his wife had called him on Friday night and kept shouting and crying. Swati said he then asked his daughter to inquire from her mother regarding what the matter was.
At a news conference, he said when his daughter insisted, his wife revealed that someone had sent her a private video of him from an "unknown number".
"Because the daughters and granddaughters of my country are listening, I cannot say any further," he said, beginning to tear up and pausing.
Swati said that he explained to his daughter, who kept wailing on the other side of the phone, that her mother doesn't understand that he sleeps at 9pm and wakes up early morning for prayers.
Also read: Swati cries as 'private video' with wife leaked to family
"I have spent my entire life with her. She doesn't know that a few days ago, on the morning of October 13, when I was picked up by these cruel people, they made a video of me. These days it isn't difficult to… make a fake video."
He said that his daughter while crying, revealed to him that the video featured his wife as well.
"I asked her how it is possible," the senator said, bursting into tears. He added that his daughter also told him that the video was from when Swati and his wife had visited Quetta.
Recalling that visit, he said Senate Chairperson Sadiq Sanjrani, who respected his wife, had made arrangements for them to stay at the Supreme Court's judicial lodges in Quetta. "You (Sanjrani) made arrangements there to protect an elder senator and your aunt (Swati's wife). And you told me that I will stay there as there were no Supreme Court judges in Quetta."


Source link