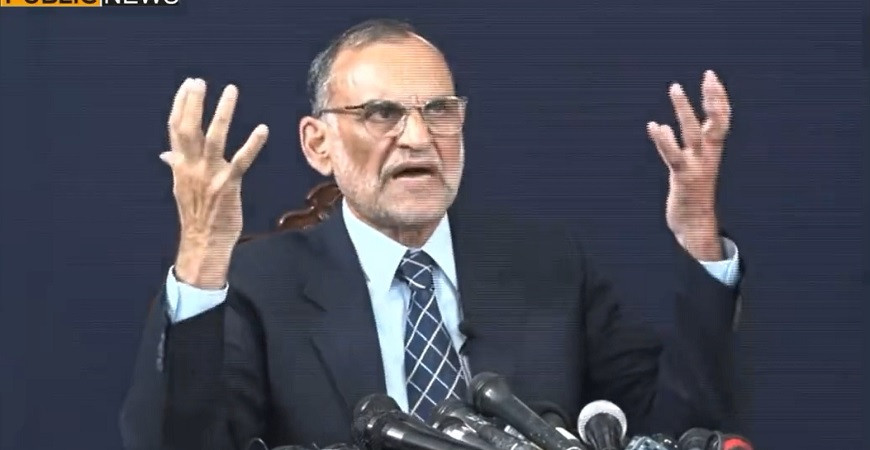 Pakistan Tehreek-e-Insaf (PTI) Senator Azam Swati on Tuesday detailed the "torture" he allegedly faced at the hands of the Federal Investigation Agency (FIA).
Swati, who was taken into custody by the FIA cybercrime unit on October 13 for making 'controversial claims' against state institutions, including the army chief, made these remarks during a press conference.
Some shocking details of custodial torture presented by @AzamKhanSwatiPk in his press conference. #حقیقی_آزادی_لانگ_مارچ pic.twitter.com/RuB1J4eNIu
— PTI (@PTIofficial) November 1, 2022
PTI chief Imran Khan had termed the dentation of Swati illegal and had reiterated that an elderly senior citizen was tortured in front of his grandchildren for "a crime of criticising the institution", adding that the incident had earned Pakistan a bad name.
Addressing the Chief of Army Staff (COAS) Gen Qamar Bajwa in his presser, Swati said that the COAS had 27 days left at the army general headquarters (GHQ) and urged him to follow the Constitution and summon FIA cybercrime assistant director Ayaz Khan.
Read Will beat Nawaz in his own constituency, says Imran as PTI resumes march on Day 5
The senator alleged that the FIA official was present on the occasion and driving the vehicle during his torture.
He asked that the phones of all individuals present be checked for video evidence of his torture, and to see who was laughing during the ordeal.
"They covered my head and kept hitting me the entire way while someone recorded the entire scenario as I screamed," he added.
The senator alleged that he was then taken to an unknown location and physically tortured and forced to strip naked.
"If I am lying then the Almighty will punish me," he said to the COAS, reiterating that he was tortured inside his house as well.
More to follow…


Source link