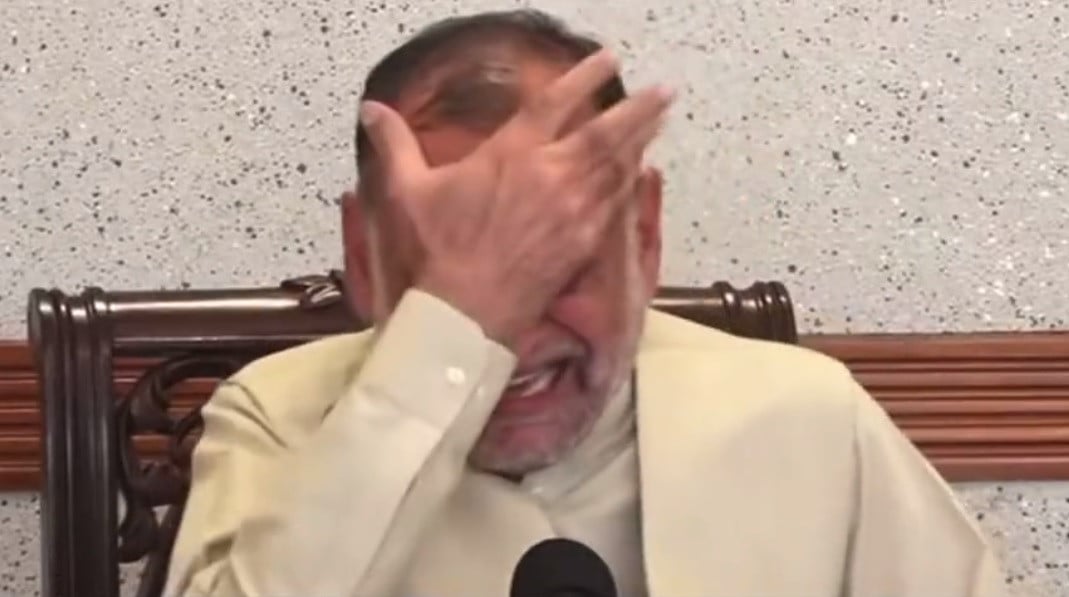 Pakistan Tehreek-e-Insaf (PTI) Senator Azam Swati claimed on Saturday that his spouse was sent a private video clip of him and his wife from an "unknown number".
While talking to the media, the senator explained how he got to know about the clip and said he tried talking to his wife but she maintained silence and refused to talk to him.
Shocking details of what happened last night to Azam Swati and his family being stated by @AzamKhanSwatiPk himself 1/2 pic.twitter.com/gdLpAW30qe
— PTI (@PTIofficial) November 5, 2022
After failing to get an answer from his wife after asking her multiple times, the senator said he asked his daughter, who is visiting Pakistan, to ask her mother about the matter.
He added his daughter told him to wait and spoke to his wife.
"My daughter said that her mother had been sent a video clip by someone from an unknown number… and you are in that video," said the PTI leader as he broke down in tears describing the ordeal.
Shocking details of what happened last night to Azam Swati and his family being stated by @AzamKhanSwatiPk himself 2/2 pic.twitter.com/Ohs21Un6ki
— PTI (@PTIofficial) November 5, 2022
The senator furthered that he cannot give further details because the "country's daughters are listening".
Swati further said that he explained to his daughter that her mother doesn't understand that he sleeps at 9 PM and wakes up early morning for prayers.
Read: PTI senators write to SC on Azam Swati's arrest, 'torture'
"I have spent my entire life with her. She doesn't know that a few days ago, on the morning of October 13, when I was picked up by these cruel people, they made a video of me. These days it isn't difficult to…. make a fake video."
He added that his daughter kept weeping on the other side of the phone and said, "Daddy, this video isn't of anyone else.. it is yours and my mother's…I told her how is this possible."
Earlier, speaking of his 'custodial torture', Swati appeared before the Supreme Court's (SC) human rights cell and stated his honor had been ripped apart and he was living like a "breathing corpse".
Talking to media outside the apex court, Swati said, "I live and die every day. Arshad Sharif has been martyred, why was I left alive?"
Also read: PTI's Azam Swati arrested for 'controversial' tweet against COAS
The senator got emotionally overwhelmed during the talk, stating that he has been unable to sleep. "Every time I fall asleep, I wake up 15 minutes later," the PTI senator said, adding that he will not give up until those who did wrong to him are brought to justice.
"My honour was shattered in a blow. I ask, is a tweet my only crime?" he said.
The arrest, 'torture'
Swati was taken into custody by the Federal Investigation Authority's (FIA) cybercrime unit on October 13 for allegedly making 'controversial claims' against state institutions, including the army chief.
Almost 10 days later, a district and sessions court in Islamabad granted Swati post-arrest bail against a surety bond worth Rs1 million.
On November 1, the PTI senator detailed the "torture" he was allegedly subjected to in the custody of FIA and called on Chief Justice of Pakistan (CJP) Umar Ata Bandial to investigate the incident.
Meanwhile, the FIA rejected the allegations on October 18 that said that the PTI senator was subjected to torture and humiliation in custody, saying the "dignity of the lawmaker was ensured during the entire legal process".


Source link