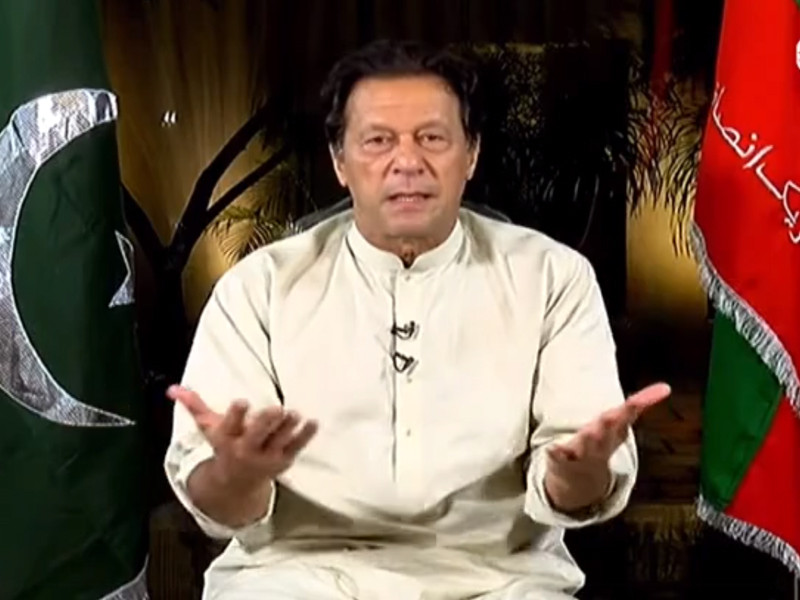 The Pakistan Tehreek-e-Insaf (PTI) supporters have started gathering at the site where former premier Imran Khan was attacked in Wazirabad last week as the party resumed its 'Haqeeqi Azadi March' on Thursday.
The party had halted its march following the assassination attempt on Imran. Senior party leader Fawad Chaudhry in a tweet announced that the PTI will "start the journey from the same place in Wazirabad where the assassination attempt on Imran Khan was made"
تحریک انصاف کا #حقیقی_آزادی_مارچ آج پھر وزیر آباد کے اسی مقام سے سفر کا آغاز کرے گا جس مقام پر عمران خان پر قاتلانہ حملہ کیا گیا تھا،تحریک انصاف کے کارکنان اس سازش کے خلاف سراپا احتجاج ہوں گے تین بجے ہم جلسہ گاہ ہوں گے عمران خان کا خطاب 430 منٹ پر براہ راست ویڈیو اسکرین پر ہو گا
— Ch Fawad Hussain (@fawadchaudhry) November 10, 2022
He also said that Imran will address the rally via video link at 4:30 pm today.
Read Food shortage imminent amid PTI protests
Pakistan Tehreek-e-Insaf (PTI) Vice Chairman Shah Mehmood Qureshi is also reportedly on his way to lead the march.
وائس چیئرمین پی ٹی آئی مخدوم شاہ محمود قریشی حقیقی آزادی مارچ کی قیادت کرنے کے لیے پی ٹی آئی کی سینئر قیادت کے ہمراہ باب القریش لاہور سے وزیر آباد روانہ۔#HaqeeqiAzadiMarch#حقیقی_آزادی_مارچ#امپورٹڈ_حکومت_نامنظور pic.twitter.com/CteaVzM6Zh
— Ali (@alilovepti) November 10, 2022
Meanwhile a long line of vehicles were seen on roads making their way to join the march via Grand Trunk Road.
جی ٹی روڈ پر ہر طرف پاکستان تحریک انصاف کے کارکنان موجود ہیں اس وقت کیونکہ #آرہا_ہے_پاکستان شرکت کرنے #حقیقی_آزادی_مارچ میں pic.twitter.com/XcMPmIpKMg
— PTI Sialkot (@PTIOfficialSKT) November 10, 2022
The long march was halted last week after the party chief sustained bullet wounds to his leg following an armed attack on his container, as he led the 'Haqeeqi Azadi March' in Wazirabad.
While he recovered from his wounds, the PTI chief had announced that he would not be joining in person but nonetheless said that the party will resume the march "from the place in Wazirabad where I [Imran] and 11 other people were shot, and where Moazzam was martyred," he had added while citing the name of PTI supporter Moazzam Gondal, who was killed in the attack.
It was later clarified that the march will take off at 2 pm on Thursday (today).
A day earlier, the party had again changed its plans for the long march by splitting it in two.
The first procession will continue from Wazirabad and will be led by PTI Vice Chairperson Shah Mehmood Qureshi.
The second rally will depart from Toba Tek Singh on Friday (tomorrow), with the party's secretary general Asad Umar leading it. It will travel from Toba Tek Singh to Jhang and then to Faisalabad.
The two groups are to converge before entering Chakwal.
The announcement for the resumption of the long march came as the country was rattled by protests by PTI supporters who spilled onto the streets in various cities against the assassination attempt at the PTI chief's life.
PTI ends sit-in
PTI ended the sit-ins on the fourth day from the main roads of Rawalpindi, removed the obstacles and restored the traffic on Murree Road, Airport, Swan Bridge and IJP Road.
Citizens and commuters breathed a sigh of relief as they had faced difficulties since the protesters had set up protest camps on five main highways including Murree Road in Rawalpindi. The main and most used highway was completely blocked from Shamsabad, due to which citizens were facing severe problems.
Those traveling to Islamabad from Murree Road were facing inconvenience while people going to offices and other destinations had been facing traffic jams in large numbers.
Read more PTI can tweak NAB law when it comes to power: SC
Public and goods transport remained closed for four days due to PTI sit-ins.
Business in the area had come to a virtual standstill on Murree Road and other highways.
Citizens including traders, students, government employees and patients had suffered a great deal from road blockages.
On the other hand, PTI has made the end of the ongoing sit-in on the highway subject to the order of the leadership.
Motorway Police has provided alternative routes for vehicles to Islamabad International Airport.
Syedpur Road, Commercial Market Kuri Road and Old Airport Road remain open for traffic.
According to the traffic police, Main Peshawar Road and Mall Road was also open for traffic, while IJP Road had been closed for all types of traffic towards Islamabad. Alternatively, Main Peshawar Road, Westridge, Chauhar Chowk, Marble Factory Road, Golra Mor, Srinagar Highway were open for traffic.
Meanwhile, educational institutions in Rawalpindi remained closed for the third day today despite district administrations ordering all educational institutions in Islamabad to remain open as all the roads inside the federal capital were open. The district administration has also issued a notification regarding keeping educational institutions open.


Source link