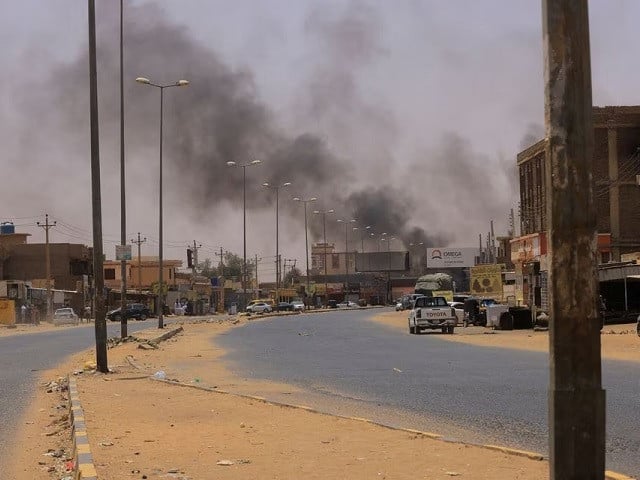 Sudan's army launched air strikes on a rival paramilitary force's base near the capital in a bid to reassert control over the country on Sunday after a power struggle erupted into clashes that killed 56 civilians and dozens of fighters.
The fighting that broke out on Saturday between army units loyal to General Abdel Fattah al-Burhan, and the RSF, led by deputy leader, Mohamed Hamdan Dagalo, known as Hemedti, is the first such outbreak since both joined forces to oust president Omar Hassan al-Bashir in 2019.
At the end of a day of heavy fighting, the army struck a base belonging to the government's paramilitary Rapid Support Forces (RSF) in the city of Omdurman, which adjoins the capital Khartoum, eyewitnesses said late on Saturday.
Both the military and the RSF claimed they had control of Sudan's airport and other key installations in Khartoum, where fighting raged overnight.
In the early hours of Sunday, residents reported hearing gunfire and explosions from heavy artillery through the night. Al Arabiya television broadcast footage showing thick plume of smoke rising over some districts in Khartoum.
"We're scared, we haven't slept for 24 hours because of the noise and the house shaking. We're worried about running out of water and food, and medicine for my diabetic father," Huda, a young resident in southern Khartoum told Reuters.
"There's so much false information and everyone is lying. We don't know when this will end, how it will end," she added.
Tagreed Abdin, an architect living in Khartoum, said the power was out and people were trying to conserve phone batteries. "We can hear air strikes, shelling, and gunfire," she said.
Doctors unions said it was difficult for medics and the sick to get to and from hospitals and called on the army and RSF to provide safe passage.
Social media videos showed military jets flying low over the city, at least one appearing to fire a missile.
The military and RSF, which experts say is 100,000 strong, have been competing for power as political factions negotiate forming a transitional government after a 2021 military coup.
The fighting followed rising tensions over the RSF's integration into the military. The disagreement over the timetable for that has delayed the signing of an internationally backed agreement with political parties on a transition to democracy.
The clashes coincided with the Muslim holy month of Ramadan when residents fast from dawn to sunset. A protracted confrontation could plunge Sudan into widespread conflict as it struggles with economic breakdown and tribal violence, derailing efforts to move towards elections.
Army says victory is near
The army said in a statement on Sunday that "the hour of victory is near".
"We pray for mercy for the innocent lives taken by this reckless adventure taken by the rebel Rapid Support militia… We will have good news for our patient and proud people soon, God willing," the statement said.
The Central Committee of Sudanese Doctors reported at least 56 civilians had been killed and 595 people, including combatants, had been wounded since the fighting erupted. Around half of the civilians who were killed died in provinces outside Khartoum, it said.
Scores of military personnel were also killed, the doctors' committee said, without giving a specific number due to a lack of first hand information from hospitals where those casualties were taken.
On Saturday morning, the RSF claimed to have seized the presidential palace, army chief's residence, state television station and airports in Khartoum, the northern city of Merowe, El Fasher and West Darfur state. The army rejected those assertions.
Late on Saturday, the Sudanese air force told people to stay indoors while it conducted what it called an aerial survey of RSF activity, and the government ordered businesses, schools, banks and government offices to close on Sunday.
International powers – the United States, China, Russia, Egypt, Saudi Arabia, the United Nations, European Union and African Union – appealed for an immediate end to the hostilities.
U.S. Secretary of State Antony Blinken said on Saturday he had consulted with the ‍foreign ministers of Saudi Arabia and United Arab Emirates ‍and that they had agreed it was essential for the involved parties in Sudan to immediately end hostilities without any preconditions.
After a phone call, the Saudi, U.S. and UAE foreign ministers called for a return to the framework agreement on the transition to democracy, the Saudi state news agency reported.
The armed forces said it would not negotiate with the RSF unless the force dissolved. The army told soldiers seconded to the RSF to report to nearby army units, which could deplete RSF ranks if they obey.
RSF leader Hemedti called military chief Burhan a "criminal" and a "liar".


Source link