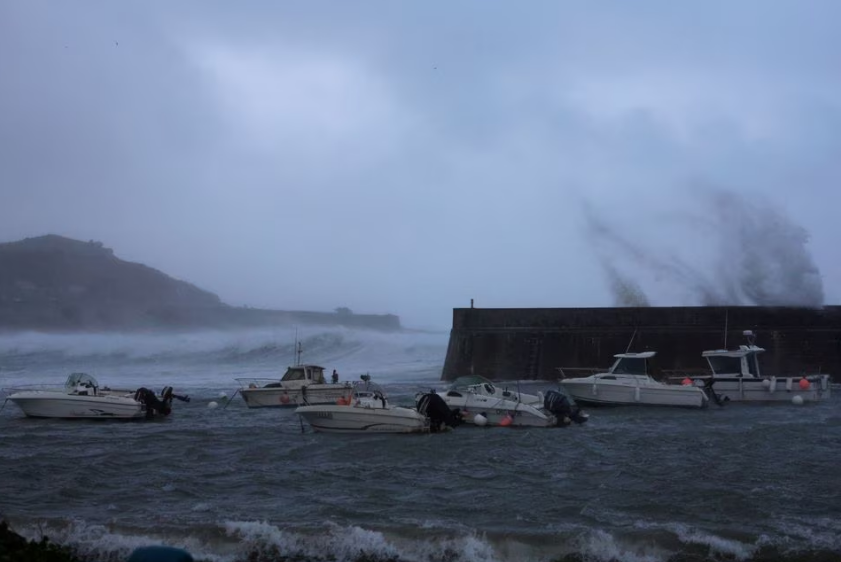 LONDON/PARIS:

Storm Ciaran smashed into northwestern Europe on Thursday with strong winds and driving rain, killing one person in France and forcing the closure of schools, airports, and rail and ferry services.
A truck driver was killed by a falling tree northeast of Paris and 1.2 million French households were left without electricity. Authorities in Finistere, Brittany, urged people to stay at home and avoid winds which were hitting 207 kph, leading to reports of 20-meter waves off the coast.
Storm Ciaran, which follows on the heels of Storm Babet two weeks ago, was driven by a powerful jet stream that swept in from the Atlantic, unleashing heavy rain and furious winds that have already caused heavy flooding in Northern Ireland and parts of Britain.
France's Interior Minister Gerald Darmanin said on social media network X that 1,315 people had to be relocated to camp sites or shelters, and several houses were evacuated in the Finistere city of Brest after a crane fell.
"I repeat: stay at home," local prefect Alain Espinasse told RTL radio.
Still, the storm in France showed some signs of abating with the Meteo France weather service reducing its alert for strong winds in Mache, Finistere and Cotes d'Armor from red to orange.
In Britain, the Channel Islands were among the worst hit areas, with the BBC reporting that windows had been blown in and one roof ripped off a house on Jersey, forcing families to move into nearby hotels.
Also read Mexico throws troops, aid into Acapulco as hurricane death toll rises
Southern England was also badly affected, with many schools closed and the rescue charity that saves lives at sea urging people to avoid the coast.
Fairly normal
Britain's Met Office issued a yellow warning for London and southeast England.
"This rough weather could make visiting our coasts around southern England and Wales treacherous and bring very dangerous sea conditions," Ross Macleod of the RNLI said.
Britain's Met Office said Storm Ciaran was a "fairly normal" autumn storm but said that under certain climate projections the frequency and intensity of such storms in the British winter could slightly increase.
Dutch Airline KLM scrapped hundreds of flights to and from Amsterdam, while international trains from the Dutch capital to Paris were also cancelled, and shipping lanes in the southwest of the country were closed.
Spain's state-run weather agency AEMET also issued red warnings on Thursday for the northern regions of Galicia and Cantabria, where waves of as high as nine metres were expected.
La Pinilla, a ski resort north of Madrid, and Estaca de Bares in Galicia registered wind velocities of more than 150 kilomteres per hour, AEMET said.
Airport operator AENA said 18 flights in Madrid, Bilbao, Asturias, Vigo, La Coruna and Santander were cancelled following the cancellation of 21 flights on Wedneday.