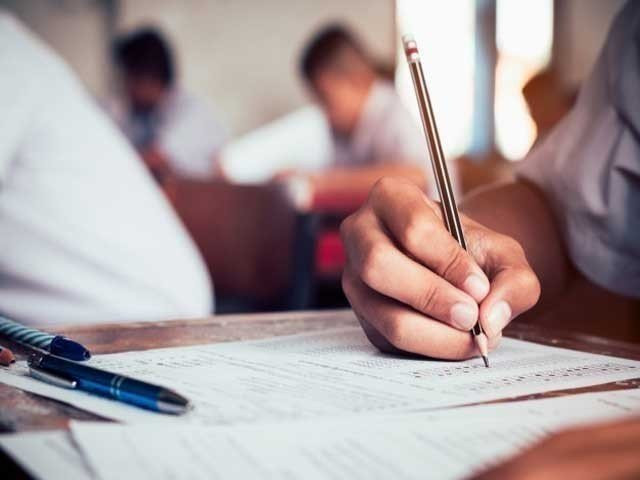 [ad_1]
At a time when financial challenges are mounting with each passing day, Cambridge Assessment International Education's decision to jack up the registration fee for its upcoming examination series comes as a bolt from the blue for parents across Pakistan.
Announced this month by the UK-based provider of international qualifications, the 16 per cent increase in the exam registration fee per subject has stirred discontent among the 85,000 students, whose families are already battling runaway inflation.
"Despite the tough economic conditions in the county and the drop in our purchasing power, we still have to invest in costly private education with a pinch of salt in order to guarantee a better future for our children," said the father of a student enrolled at the Beaconhouse School System.
The new policy implies that for the standard O' Level 10th grader appearing for the Pakistan Studies, Islamiyat and Urdu exams, the total spike in fee amounts to around Rs10,000 per session, whereas, for the typical 11th grader with five subjects, including English, Mathematics and the three natural sciences, the increase is of almost Rs 15,000 per session. Similarly, for the average A' Level student, the rise in total fee for the three standard natural science subjects amounts to almost Rs 6,000.
With its public education system functionally and structurally incapable of providing internationally recognized qualifications, Pakistan relies heavily on the private education sector through examination boards like Cambridge to confer high standard certifications to much of its upper middle-class youth.
"If our own education system were of a superior standard, we would not be spending extra money on private foreign education," said an irked parent.
The main thrust of the disdain, being shoveled towards the new fee policy, revolves around opposition to the blank-figure approach of the CAIE board, which, when applying policies to Pakistan, treats it as a blank-figure existing outside of a specific context.
Local education experts believe the monetary policies are implemented directly onto Pakistan without considering the specific socio-economic circumstances within the country, which greatly multiply the financial burden of the fee spike on the registering students and their families.
"I spoke to the school administration regarding this situation, and the only solution they proposed was to register the child for fewer exams this year," said a father of a student enrolled at a private school in Lahore.
No stranger to controversy, CAIE found itself in the middle of a storm for some policies it rolled out during the pandemic. Back then, the UK-based body adopted a new assessment process based on predicted grades which was declared unfair, widely disputed, and later revised under pressure from the federal education minister.
In response to the recent outrage against its fee policy, Cambridge said: "Our fee in Pakistan is the lowest in the world. Being a not-for-profit organisation, we review our fee annually and charge the minimum amount necessary to maintain the quality of our programmes." The UK-based body further claimed it was aware of local economic conditions in Pakistan and that the increase in the fee was much less than the prevailing rate of inflation.

[ad_2]
Source link