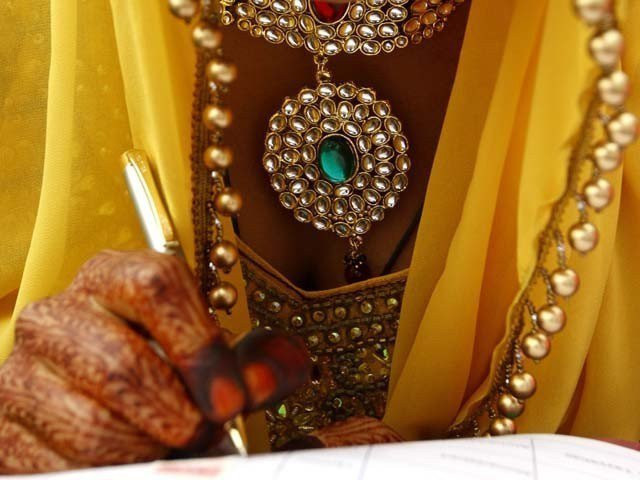 As the nation waited with bated breath for missing Karachi teenager, Dua Zehra, to be traced; news emerged that she was found married in Lahore. After this news circulated the tide of social sympathy turned to a mixture of scathing remarks about the girl's character and questioning a system that does a shoddy job of protecting children from predators.
Dua Zehra has reportedly married a man named Zaheer in Lahore. A marriage certificate stated that she was born in 2001 and was 18 years old. In conversation with the media, her father refuted claims of the confirmation of her whereabouts and stated that the information on the certificate was false. He empahsised that Dua is only 13 which makes her a minor. Dua went missing on April 16 after she had gone out to dispose garbage.
A day after she went missing, news emerged of a second girl's disappearance. Nimra Kazmi; much like Dua Zehra was found married in DI Khan. Nimra released a video statement claiming that she had eloped of her own volition. Nimra is also underaged and therefore cannot consent to marriage.
Social media users lambasted the girls and made them the brunt of malicious jokes; while others criticised a system that cannot sufficiently protect children from predators.
Morning show host Sehar Shinwari expressed the tragic trajectory in which society is headed.
Journalist Abdul Qadir reminded malicious commenters that they should be mindful of sensitive issues and that it is a relief that the teenager is alive.
Social media user Zehra Kamal emphasised the fact that Dua is a minor and that power dynamics play a huge role in manipulating consent.
Lawyer Jibran Nasir highlighted the serious nature of both cases and emphasised the gravity of the crime committed by all those involved in the marriage process.
Social media user Saman Jafri shamed the mentality of a society where forced marriages of minors are commonplace.
Journalist Alia Zehra expressed that those who justify child marriages are potential predators.
Pakistan Peoples Party Chairman Bilawal Bhutto-Zardari's sister Bakhtawar Bhutto demanded the arrest of every adult involved.
Unfortunately, child marriages are still a major problem in Pakistan, while strict measures have been taken against perpetrators in recent years, more needs to be done to ensure that no child falls victim to predators.