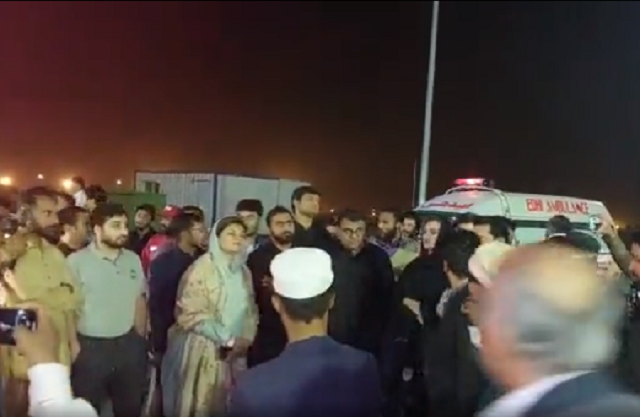 A plane carrying body of slain journalist Arshad Sharif, who was killed by Kenyan police, landed in Islamabad early Wednesday.
Journalists and Pakistan Tehreek-e-Insaf (PTI) leaders reached the airport to receive the body of renowned journalist.
An airplane carrying the coffin of slain journalist Arshad Sharif has landed in Islamabad. Journalists and political leaders have gathered at the airport to receive the coffin.#etribune #news #arshadsharif pic.twitter.com/BMsoxctPwq
— The Express Tribune (@etribune) October 25, 2022
Sharif's widow Javeria Siddique confirmed on Monday that he will be laid to rest in Islamabad's H-11 graveyard on Thursday.
The journalist had left the country in August after he was charged with sedition cases. He died in Kenya's Nairobi after being shot, confirmed his wife late Monday.
The police were reported by Kenyan media as claiming that Shairf had been shot in the head and killed by the authorities on Sunday night along the Nairobi-Magadi highway in a case of "mistaken identity".
Sharif and his driver allegedly breached a roadblock that had been set up to check on motor vehicles using the route, where there was a call for police to intercept a car similar to the one they were driving following a carjacking incident in Pangani area, Nairobi where a child was taken hostage.
Read Arshad Sharif's body being repatriated to Islamabad: Marriyum
Police sources also appear to have said that this was followed by a brief chase and shooting that left the journalist dead and the driver injured as the car rolled.
The driver was reportedly taken to a hospital where he claimed that he and his slain colleague were developers headed to Magadi.
Further details are expected to emerge as the Independent Policing Oversight Authority investigates the case.
Meanwhile, several local and Kenyan media persons have raised doubts about the official narrative.


Source link