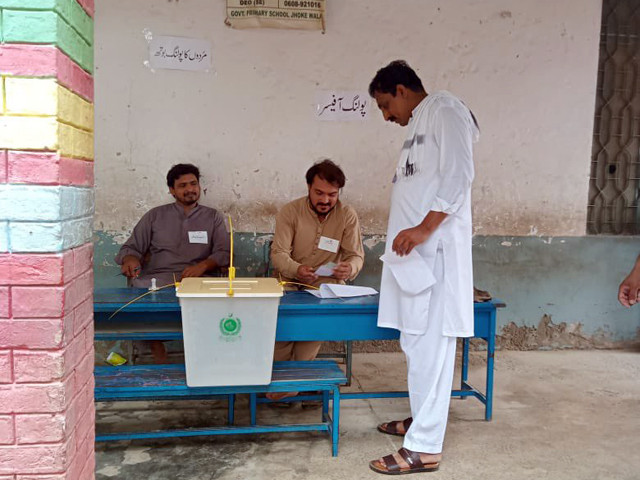 [ad_1]
The Sindh government on Saturday reiterated its request to postpone the local government (LG) elections in Karachi and Hyderabad.
A letter issued today, a copy of which is available with The Express Tribune, by the Pakistan Peoples Party (PPP)-led government has requested the Election Commission of Pakistan (ECP) to postpone the LG polls.
The request comes less than 24 hours after the ECP had rejected the provincial government's request for the postponement of local body polls, saying that elections will be held on Jan 15 (tomorrow) as per schedule.
The electoral watchdog had suspended the notification of the Sindh government against the Sindh LG Act, 2013. It had also rejected the provincial government's request to postpone elections in Dadu district due to the post-flood situation.
Read ECP cannot reject Sindh govt's decision to delay LG polls: Memon
However, the ruling PPP sent a letter to the ECP again and maintained that its decision to postpone elections in Karachi and Hyderabad was made due to the "non-availability of Pakistan Army and Civil Armed Forces for static deployment at the polling stations".
The provincial government added that a letter was written to the electoral watchdog regarding the concern earlier, however, the request was rejected.
It added that in the decision made by the ECP, the commission also rejected the withdrawal of notifications regarding the number of union councils, adding that the order also did not respond to the concerns of the Sindh government regarding the non-availability of the law enforcement agencies.
In the letter, the Sindh government informed that a meeting was held regarding the issue and was attended by government officials as well as the secretary of ECP along with senior officials of security agencies.
"In this meeting, the law enforcement and intelligence agencies apprised the participants of the precarious law and order situation along with specific threats to various political leaders and workers of political parties," it stated.
Read More PDM leaders move to placate MQM-P after divorce threat
Concluding the letter, the provincial government once again requested the electoral watchdog to postpone the LG elections in Hyderabad and Karachi.
"The second phase of local elections should be postponed till the availability of security forces," read the letter. The LG polls are to be held in 16 districts of Karachi and Hyderabad.
It is pertinent to note that the second round of LG elections in 16 districts of Sindh was to be held on July 24, 2022.
However, the Sindh administration had excused itself from holding the polls over the lack of security and police presence because of the floods that wreaked havoc across the country, including Sindh.
Later, the LG elections were rescheduled for August 28 but the elections did not take place on that day and a new date was again set as October 23.
However, the polls were postponed on that date too.
Earlier this month, the ECP had ruled that the local government elections in Karachi, Hyderabad, and Thatta would be held on Jan 15 as per schedule.

[ad_2]
Source link