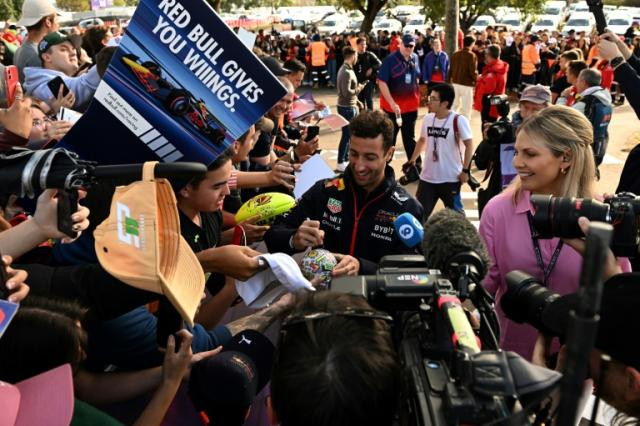 Daniel Ricciardo says he still has the hunger to compete in Formula One and the "signs are pointing" to him being back on the grid in 2024, with Red Bull boss Christian Horner saying the Australian was race ready.
The 33-year-old left McLaren at the end of last season, a year before his contract ran out, to make way for fellow Australian Oscar Piastri.
Ricciardo, who has eight career wins, had largely played second fiddle to teammate Lando Norris and opted to take time away from the sport's demanding schedule before signing on as Red Bull's reserve driver.
As part of the deal, Ricciardo will only attend a handful of the 23 races this season and is at his first in Melbourne this weekend, where he was mobbed by fans Friday.
Red Bull chief Christian Horner said Ricciardo had sat in on all their briefings and would do testing for the team later in the year.
"Daniel is just a positive energy to have around and it's great to see him getting his mojo back and that big smile on his face," he said.
"Even though he's not driving in F1, he's probably the most popular driver here (in Melbourne)."
Asked if Ricciardo could sit in for Max Verstappen or Sergio Perez should either be unfit to race, Horner replied: "I'd say he's about 10 minutes away from being ready. He's training hard and he's ready to go given the chance."
Ricciardo told the Herald Sun newspaper "the signs are pointing towards getting back on the grid".
"I feel like that's currently where I'm tracking, at least in my head… I've even put myself in scenarios now where I'm like, if I got back on the grid tomorrow, what would I do differently?"
He said his brief time away had already made him realise "how much I do care about it".
"I want to be back with a top team, and a team where I have that confidence back and my mojo."
Where that opportunity might come remains to be seen.
With double world champion Verstappen dominant at Red Bull and teammate Perez winning the Saudi Arabia Grand Prix a fortnight ago, it seems unlikely the door will open there.
Ferrari, Mercedes and Aston Martin also appear to have settled line-ups, which would mean a mid-level team – something Ricciardo has previously scoffed at.
Alpine team boss Otmar Szafnauer confirmed Friday he had spoken with Ricciardo about a potential drive for the 2023 season, before opting to sign Pierre Gasly.
But he "wouldn't be surprised" to see the Australian return to the F1 grid


Source link