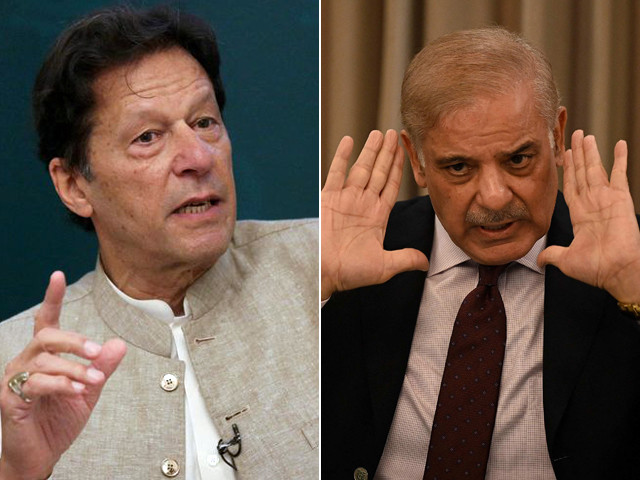 Prime Minister Shehbaz Sharif has termed PTI Chairman Imran Khan's address to a public gathering in Abbottabad a "grand conspiracy" against Pakistan, saying those concocting a narrative against national institutions are the real "Mir Jaffar and Mir Sadiq (traitors)".
In a statement issued late Sunday, the prime minister said the state, Constitution and the respected institutions of the country were challenged in Imran Khan's address earlier in the day.
Pledging legal action against the PTI chief, PM Shehbaz said what Imran was doing could only be categorised as conspiracy not politics and added that the conspiracy was not against any political rivals but against the country.
"Pakistan cannot be surrendered and compromised over one person's ego, arrogance, and blatant lies. Imran first conspired to destroy economy of the country and now planning to trigger civil-war in Pakistan," he said.
Also read: Keep army out of politics in country's best interest, warns ISPR
The PM pledged that Imran Khan's "nefarious designs" would be crushed at all cost. "Imran is Mir Jaffar and Mir Sadiq of this era who wanted Pakistan to face the same fate as Libya and Iraq," he added.
Imran incidentally also has a fake certificate of Sadiq (truthful), like Mir Sadiq, he said. He went on to say that Imran was digging holes in the very boat he is riding and biting the hand that feeds him. The people and the institutions of Pakistan were not slaves of "Imran Niazi", nor could he hold them hostage, he lambasted.
He slammed Niazi's speech and said Imran would not be allowed to become the "Hitler of Pakistan".
"Imran had lied to the nation all this time… it's about time he faces the truth," the premier was quoted as saying in the statement.
Former PM Imran, who has been alleging "foreign conspiracy" behind his removal from the office through a no-trust vote, on Sunday vowed to bring at least "3 million to Islamabad" after May 20.
Addressing a public gathering in Abbottabad, Imran claimed that more than three million people will march on Islamabad when he will give the protest call to the nation after May 20.
The deposed premier once again said only animals were neutral in remarks apparently aimed at the military leadership, who didn't take side when he was ousted from power in a no trust move last month.


Source link