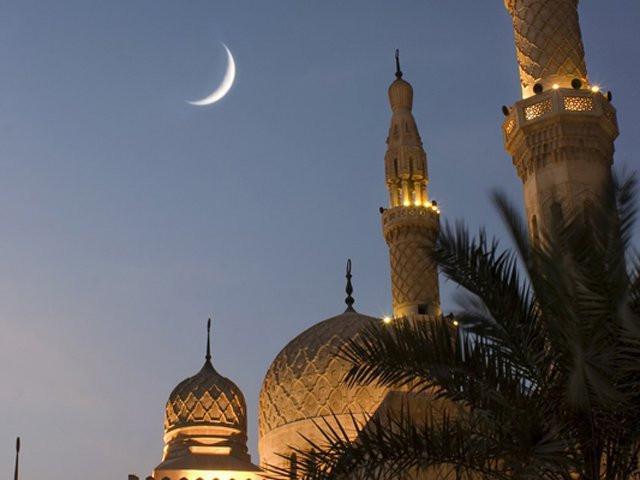 The Shawwal moon was not sighted in Saudi Arabia on Saturday, April 30, hence Eidul Fitr will be celebrated in the kingdom on Monday, May 2, according to the Haramain Sharifain Twitter account.
"Monday, 2nd May 2022 will be the day of Eidul Fitr. The month of Ramazan 1443 will complete 30 days tomorrow," it read.
BREAKING NEWS | The Crescent for the month of Shawwal 1443 was NOT SEEN today, subsequently:
Monday, 2nd May 2022 will be the day of Eid Al Fitr
The momth of Ramadan 1443 will complete 30 days tomorrow pic.twitter.com/USnzEbFsCV
— Haramain Sharifain (@hsharifain) April 30, 2022
Eidul Fitr is marked on the first day of Shawwal – the month that comes after Ramazan in the Hijri calendar.
Read more: Eidul Fitr likely to be celebrated in Pakistan on May 3
The UAE moon sighting committee is also set to make their official announcement soon.
Meanwhile, in Pakistan, astronomers have predicted that Eidul Fitr is likely to be celebrated on Tuesday, May 3 this year, saying the Shawwal moon may not be sighted anywhere in the country on the evening of 29 Ramazan (Sunday, May 1).
They added that the new moon will be born at 1:28am between the night of April 30 and May 1.
The experts further said that the dimensional difference between the moon from the sun needs to be at 10 degrees but it will be at 8 degrees in Pakistan, which will make it near impossible to be seen even with a telescope.
Also read: Govt announces four days of holiday for Eidul Fitr
On the other hand, the time difference between the sunset and moonset, which should be at 40 minutes, will be more than 89 minutes in all areas of the country.
However, sources told The Express Tribune that unconfirmed sightings will be approved on the evening of May 1 in order to coincide observance of Eid with Saudi Arabia as usual.
They also said that the federal minister for religious affairs has also served as a member of Mufti Popalzai's committee and is known to make the sighting of the moon controversial in the past.


Source link