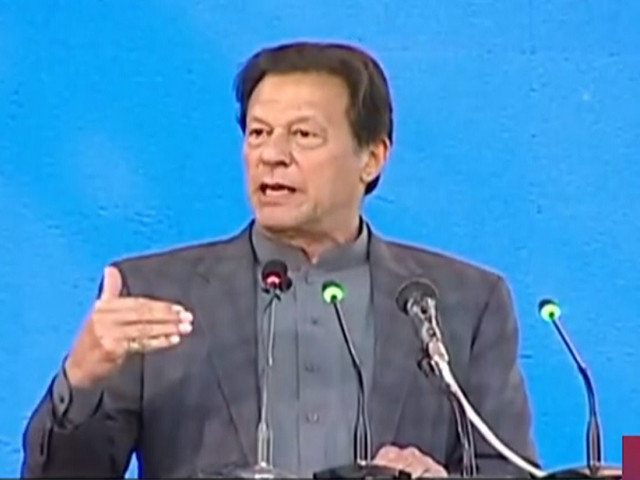 Terming the alleged leaked audiotape of former chief justice Saqib Nisar, wherein he spoke about being told to sentence ex-premier Nawaz Sharif and his daughter Maryam, a "drama", Prime Minister Imran Khan has said the Sharif family has resorted to attacks on institutions to avoid providing courts money trail for their London properties.
"Today, an audiotape is under discussion so I thought I should talk about it as well," PM Imran said while addressing participants of the Kamyam Jawan Convention in Islamabad on Wednesday.
"We can see tapes surfacing, with judges being named," he said, adding, "Let me tell you what this is about… they [Sharifs] are resorting to attacks on institutions because they were asked to respond about the sources of their [offshore] wealth."
LIVE #APPNews : Prime Minister Imran Khan addressing Kamyab Jawan Convention 2021 #Islamabad @PakPMO @ImranKhanPTI #KJConvention2021 #KamyabJawan https://t.co/EkEE4AjN1f
— APP 🇵🇰 (@appcsocialmedia) November 24, 2021
The premier further said, "When I stepped into politics 25 years ago, I had deemed corruption to be the biggest problem of the country."
"Nations don't become poor due to lack of resources; they become poor when prime minister and ministers begin to launder money abroad… They don't keep it in the country so that they can hide it from the masses."
In doing so, he said, they inflict double damage to the country.
Referring to the Panama Papers leaks, PM said: "Maryam Nawaz was found to be the owner of four flats in London. "However, she was not able to put forth a single document to prove the money trail."
This happened, he added, because it was stolen money. After failing to put forth a proof, "they begin to attack the judiciary and the military".
Also read: PTI, PML-N bicker over 'audio clip'
"They lied about it in the National Assembly, followed by the fake Qatari letter and the Calibri font saga."
He added, "Now they also deem me to be a tyrant."
The prime minister said that he also has a flat in London but he provided every proof related to it over a period of 10 months. "I provided 40-year-old contracts related to my flat despite the fact that I was not a public office holder."
A nation, he went on to say, cannot continue to stand on its feet when its ethical standards are destroyed. "We cannot reach the place where we want to be unless we lift our moral standards."
He further said, "I have no doubts in the capabilities of the nation and I am certain that we will become a great nation."
Also read: Maryam says judiciary should not bear burden of ex-CJP's 'sins'
Earlier today, Pakistan Muslim League-Nawaz (PML-N) Vice-President Maryam Nawaz said that the "leaked audio clip" of ex-CJP Saqib Nisar was proof of his involvement in influencing the case against Nawaz Sharif.
In a press conference in Islamabad, the PML-N leader said that the former top judge murdered justice and this alleged audio of him proved it beyond a reasonable doubt.
Maryam said the ex-chief justice will have to answer for his actions. "On whose orders, the former chief justice of Pakistan had to commit an illegal act," she questioned, adding that he will have to answer to the nation.


Source link