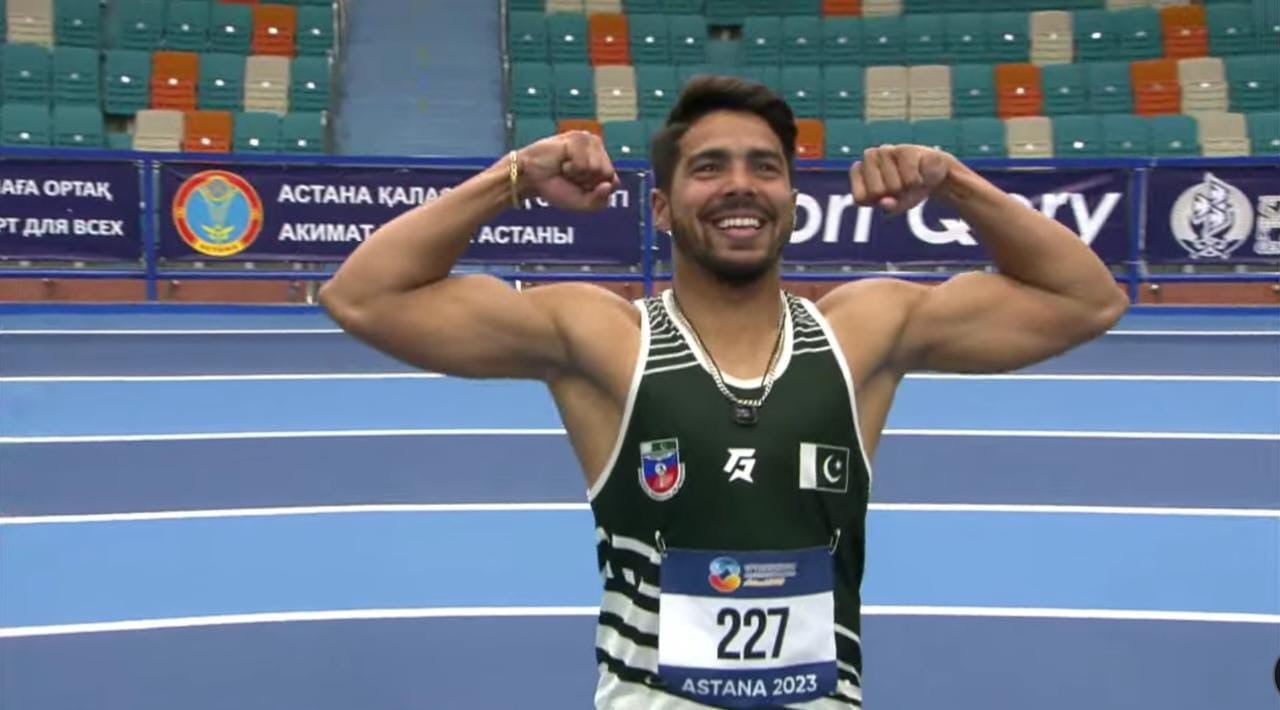 "It was challenging to run three sprints in a day without even having a physiotherapist with me. But it feels so good because I really ran with all I had," Shajar Abbas expressed his emotions and struggle on February 11, when he made history by becoming the first Pakistani sprinter to reach the final of the Asian Indoor Athletics Championship.
The 22-year-old was competing among the 26 athletes in the 60m sprint in Nur-Sultan, Kazakhstan.
Shajar's story for this event is that of empathy, camaraderie, and triumph, as he found help and ease when he needed the most from the Indian team's physiotherapist. Shajar was on fire when he finished among the top 16 to qualify for the semi-finals of the 60m event, with the ninth best time of 6.78 seconds, making it into the next round.
The next stop was the semi-final and Shajar shaved off some more time to make his way into the final of the championships.
He went on to improve his time in the final with 6.71 seconds, ending up seventh out of eight finalists, setting a new Pakistani record.
Bangladesh's Imranur Rahman made history as he took the gold medal clocking 6.59 seconds in the event.
Since the inauguration of the Asian Indoor Athletics Championships in 2004, Pakistan have only managed to win two medals in the event.
Back without adequate help
The Asian Indoor Championship was Shajar's first event since 2022 Commonwealth Games and the 2022 Islamic Solidarity Games.
"This was the first time I competed on an indoor track like this. But I tried my best really, it was all very new," Shajar told The Express Tribune.
It is fascinating to see that the Pakistani athletes persevere despite the lack of basic facilities. In Shajar's case, Pakistan does not have an indoor athletics track to train at.
"I learned from my fellow athletes from China and India among other countries. The competition was difficult because this was my first time in this environment, indoors, but I knew that I gave my best.
"It would have been nice if we had indoor facilities in Pakistan. I had no idea how it would go while I was training here."Shajar explained that the outdoor competitions are significantly different as wind plays a role while one sprints. Meanwhile, timing the best run for indoors during the training in Lahore was more of a guesswork.
"Of course we have no way to know because we are not replicating the conditions of the place we will be competing at, so it is a challenge in many ways."
Shajar has been the one to watch as he is constantly proving his hunger to dash to the podium, but he has been found wanting as the Athletics Federation of Pakistan (AFP) has not been able to send the required experts and professional staff with the athletes.
Like others in the squad, Shajar had been competing on the day without his personal coach as well as a physiotherapist.
So, he found comfort and help from the Indian physiotherapist who was happy to get him prepared before the final.
"It gets very tough on the body, especially when we are competing on such short notice. Like we were only told about this event a month ago, so the body takes time.
"It was tough because running three sprints in a day takes a toll on body. I needed a physiotherapist, our squad had none, so I got a lot of help from my Indian friends. Their physio was happy to help. In fact if he had not helped me, it would have been exceedingly difficult for me to run in the final. I will forever be grateful to him," said Shajar.
PHOTO COURTESY: SHAJAR ABBAS
The Pattoki-born athlete said that it would be helpful if the federation plans the events in advance as having only a month makes training difficult.
He added that he is targeting 2024 Paris Olympics qualification.
"My request is to invest in our facilities and training. The 60m gold medallist at the Indoor Asian Championships, from Bangladesh, we both competed at the Commonwealth Games in 100m and my time was better than his. But look at him now. His country is investing in him, he trains abroad, there are facilities and experts available for him, so he won the medal. I feel I can too, but we need adequate support," said Shajar.
Despite the drawbacks, Shajar is confident of his abilities and believes that his hard work will pay off.
"The focus is to train, be good and win. I need the prayers from everyone," said Shajar, who has now joined Wapda's sports department.
The AFP sent five athletes to the championship with a coach. The other remarkable performance came from Uzair Rehman, who competed in the semi-final of 400m event.


Source link