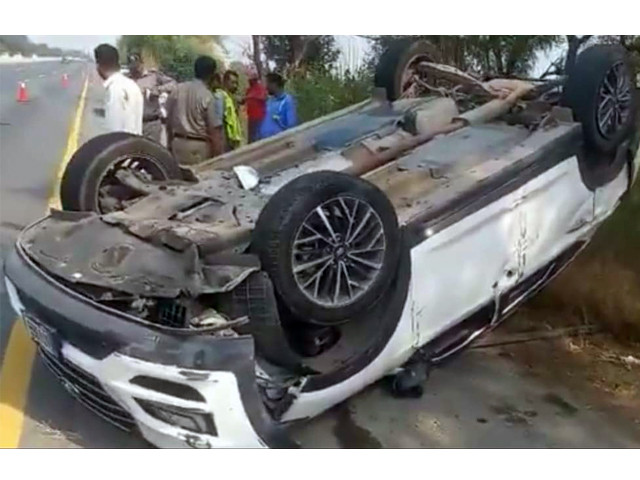 Pakistan Tehreek-e-Insaf (PTI) leader Shahbaz Gill sustained minor injuries in a vehicle accident on Thursday, on the M2 motorway.
The former special assistant to then prime minister Imran Khan was traveling to Islamabad from Lahore. According to reports, motorway police officials have arrived on the scene.
شہباز گل کی گاڑی کو موٹر وے پر خوفناک حادثہ، پیچھے سے آنے والی گاڑی کی ٹکر سے شہباز گل زخمی، شہباز گل لاہور سے اسلام آباد روانہ ہوئے تھے! pic.twitter.com/1ma1lxQDUt
— Abdul Qadir (@AbdulqadirARY) May 5, 2022
Four individuals, who are yet to be identified, were travelling with Gill earlier today when their car met with an accident on the motorway. Sources privy to the matter have mentioned that all passengers sustained minor injuries and had been immediately shifted to the nearest hospital.
Read: Want friendship with US on equal footing, says Shahbaz Gill
Gill was recently named in the FIR registered under the blasphemy law over the Masjid-e-Nabwi incident.
The FIRs were lodged on Sunday against former premier Imran and other top leaders of the party in Faisalabad and other cities of Punjab over their alleged involvement in the incident in Masjid-e-Nabwi, where some Pakistani pilgrims shouted slogans against the new government and ridiculed Prime Minister Shehbaz Sharif and the federal ministers.
The charges were registered under sections 295, 295-A, 296, and 109 of the Pakistan Penal Code. The sections relate to harming a place of worship with intent to insult a religion, deliberate and malicious intent to outrage religious sentiment, disturbing religious assembly and abetment.
However, the Islamabad High Court on May 2 had passed an order stopping the government from arresting Gill, who is Imran's chief of staff, on his return from the United States. Gill returned to Pakistan yesterday.


Source link