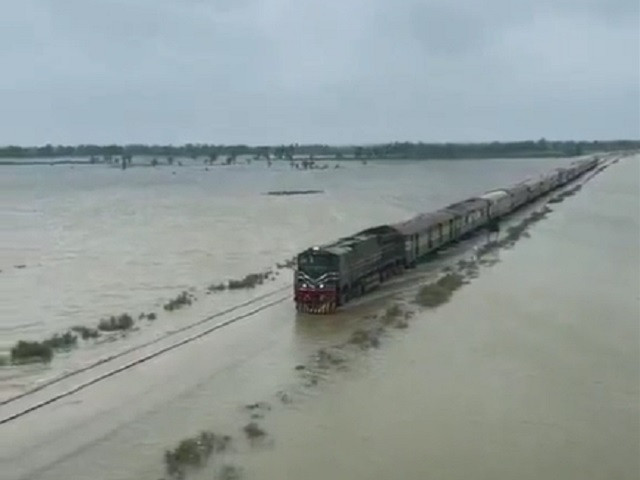 Twenty-six people died and 11 others sustained injuries in the flood-related incidents across the country on Sunday, raising the overall death toll from the calamity to 1,290 since June 14, the National Flood Response Coordination Centre (NFRCC) said on Sunday.
The NFRCC declared 80 districts of the country as 'calamity-hit', while engineers from the army and other relevant departments have repaired several bridges and roads in different parts of the country and opened them for traffic.
According to the NFRCC, several roads were blocked by the heavy rains and floods. Those included a 24-kilometre section in the Wango Hills on the M8 motorway in Balochistan, which had been closed because of landslide.
The N50 national highway in Khyber-Pakhtunkhwa (K-P) remained open for traffic except the Sago bridge, where the repair work was continuing on both sides of the bridge. The NFRCC further said that the National Highway N95 was also blocked between Bahrain and Laikot.
However, the Bahrain bridge was opened for traffic by the Peshawar Corps army engineers on the instructions of the Chief of Army Staff Gen Qamar Javed Bajwa. The opening of the bridge was a good news for the people of Swat, and especially Bahrain, Madyan and Khwaza Khela.
In Sindh, the national highway from Mehar, Johi Canal to Khairpur Nathan Shah – N55 – was inundated. The National Highway Authority (NHA) restored the Quetta-Jacobabad highway in Bolan district of Balochistan, opening the link between the two provinces.
According to the Prime Minister's Office, the N15 national highway had been reopened for traffic from Mansehra to Chilas via Naran. The Karachi-Chaman national highway, N25, which was affected between Hub and Khuzdar had also been restored.
Other national highways opened for traffic include, N35, Karakoram Highway; N40, Quetta-Noshki section; N45 Chakdara-Dir section; N-55, Indus Highway; Rajanpur-Taunsa and DI Khan-Pezu sections; N65, Sibbi-Quetta section; N70, Fort Munro section; N90 Alpuri-Basham section; N140, Gilgit-Shandour section; and Strategic Highway S1, Shangous section.
Similarly, the NFRCC said, railway line from Hyderabad to Rohri and Multan and from Kotri to Lakhi Ghulam Shah and Dadu were also affected. In Balochistan, the railway track from Quetta Taftan and Quetta Sibi and Sibi to Habib Kot was closed.
Calamity-hit districts
According to the NFRCC, the 80 districts declared as 'calamity-hit' include 31 districts of Balochistan, six in Gilgit-Baltistan (G-B), 17 in K-P, three in Punjab and 23 in Sindh, while Azad Jammu and Kashmir (AJK) remained normal.
Moreover, it maintained that 33,046,329 people have been affected by flash floods in Pakistan – 9,182,616 in Balochistan, 51,500 in G-B, 4,350,490 in K-P, 4,844,253 in Punjab, 14,563,770 in Sindh and 53,700 in AJK.
Death toll nears 1,300
The NFRCC said that the death toll from floods rose to 1,290 people – 570 men, 259 women and 453 children — on Sunday. They included 26 fatalities in the last 24 hours due to floods. The number of injured people stood at 12,588.


Source link