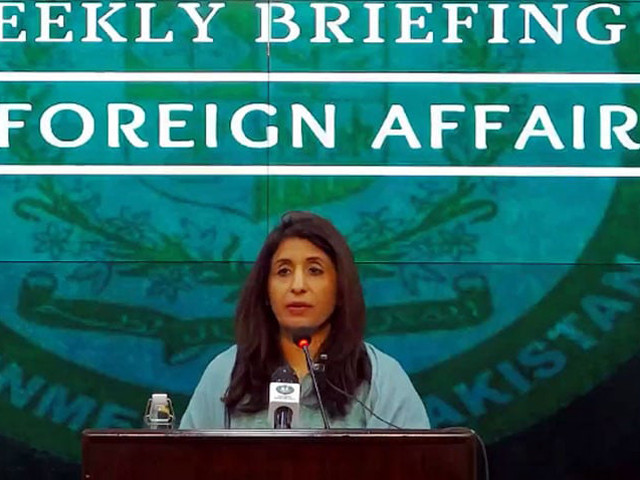 At least seven Pakistani nationals died in a boat wreck off the coast of Libya earlier this week, the Foreign Office said on Thursday.
Three Pakistani citizens were earlier reported to have died in the latest boat tragedy which occurred near Benghazi in Libyan waters on February 26—the same night a wooden sailboat sank off the coast of Italy's southern Calabria region, claiming the lives of 67 migrants, including two Pakistanis.
Speaking during the weekly press briefing in Islamabad on Thursday, Foreign Office spokesperson Mumtaz Zahra Baloch confirmed that seven Pakistanis have so far been reported to have died in the boat accident near Benghazi.
"Thus far 7 Pakistani nationals have perished in a boat wreck near Benghazi, Libya. The embassy of Pakistan in Libya is facilitating the process of identification of the bodies and transportation of the mortal remains to Pakistan with the support of local authorities and the International Committee of the Red Cross," the spokesperson said.
Also read: Hockey player Shahida Raza among victims of migrant boat tragedy
"The Embassy and Ministry of Foreign Affairs are also in contact with the families of the deceased," she added.
She said that the Foreign Office will not release the identities of the victims before ensuring "that we have the accurate information before we make any announcements".
"We are also…trying to facilitate [the families] by providing them information about their loved ones. At some point we will be releasing the names as identified authentically with their documents and confirmed by their families," said Baloch.
"These tragic incidents take place when unscrupulous individuals try to take advantage of people who may be interested in traveling abroad for livelihood. The Government of Pakistan is very cognizant of the situation and measures are being taken to address it," the spokesperson added.
Thousands of refugees and migrants—many from developing regions including Africa, Afghanistan, and Pakistan—undertake long, dangerous journeys via Libya to Europe each year.
These migrants often fall prey to human trafficking rackets, embarking on small, inflatable boats in search of a better life across the Mediterranean Sea.
Also read: Italy migrant boat wreck: Two Pakistanis arrested for trafficking
Lt-Col Alberto Lippolis, a police team commander in Italy's Calabria, said earlier this week a Turkish man and two Pakistani nationals had sailed the ill-fated boat from Turkey to Italy despite terrible weather.
They were identified by survivors as "the main culprits of the tragedy", Lippolis said.
"According to initial investigations, they allegedly asked the migrants for about 8,000 euros ($8,485) each for the deadly journey," he added.
"All three [suspects] have been arrested," Lippolis said. One of the Pakistanis was a minor, a judicial source said, and police were looking for a fourth suspect, who is Turkish.


Source link