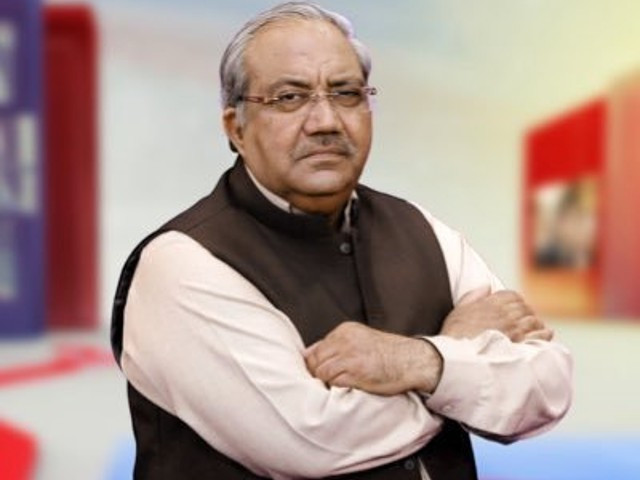 Anchorperson Chaudhry Ghulam Hussain was taken into custody from a coffee shop in Lahore by the Federal Investigation Agency (FIA) on Thursday, ARY NEWS reported.
FIA takes ARY News anchor #ChaudhryGhulamHussain into custody https://t.co/T1RSH6VaBZ
— ARY NEWS (@ARYNEWSOFFICIAL) October 27, 2022
"My father was sitting in a coffee shop with friends when an FIA team comprising 30 to 40 officers came and took him into custody, probably in an old case," Chaudhry Ghulam Hussain's son was reported as saying by the private TV channel.
According to Express News, the FIA while confirming Hussain's arrest said that the FIA's Commercial Banking Circle had arrested the senior journalist.
According to a press release issued by the agency, Hussain was declared "wanted" in case number 94/2011 by the FIA's Commercial Banking Circle.
An FIA spokesperson said that Ghulam had taken a loan worth over Rs50 million from a bank on fake documents in 2003, adding that two of his sons were also involved in the case.
He further said that a banking court in Lahore had issued non-bailable arrest warrants for the anchor in the case.
PTI leader Shahbaz Gill lamented the arrest of 12-year-old FIR. "This is very sad news. He is an elderly person and has health issues as well. May Allah keep him safe."
He further said that the entire journalist community is going through a tough phase.
چوہدری غلام حسین کے بیٹے کے مطابق ان کے والد جو کہ ایک بزرگ صحافی ہیں ان کو ایک 12 سال پرانی FIR میں 20 سے 25 لوگ اٹھا کر لے گئے۔
یہ بہت افسوسناک خبر ہے۔ وہ بزرگ ہیں اور ان کی صحت جے مسائل ہیں۔ اللہ ان کو اپنے امان میں رکھے۔ صحافی برادری پر مشکل وقت ہے۔
— Dr. Shahbaz GiLL (@SHABAZGIL) October 27, 2022
In July, senior journalist and Express News anchorperson Imran Riaz Khan, the most vocal critic of the ruling coalition, was arrested from Islamabad Toll Plaza disregarding the fact that a court has already granted him a pre-arrest bail.
Imran Riaz has been implicated in a slew of cases which he says were motivated by his refusal to "stop speaking the truth".
Of late, over a dozen FIRs have been registered against him on charges as serious as abetment of mutiny and criticism of the state institutions.
In a video of his arrest, which went viral on social media, over a dozen policemen of the Punjab Police can be seen surrounding his car.
Reportedly, he was arrested in a case lodged at the Attock police station and was taken to the same district.


Source link