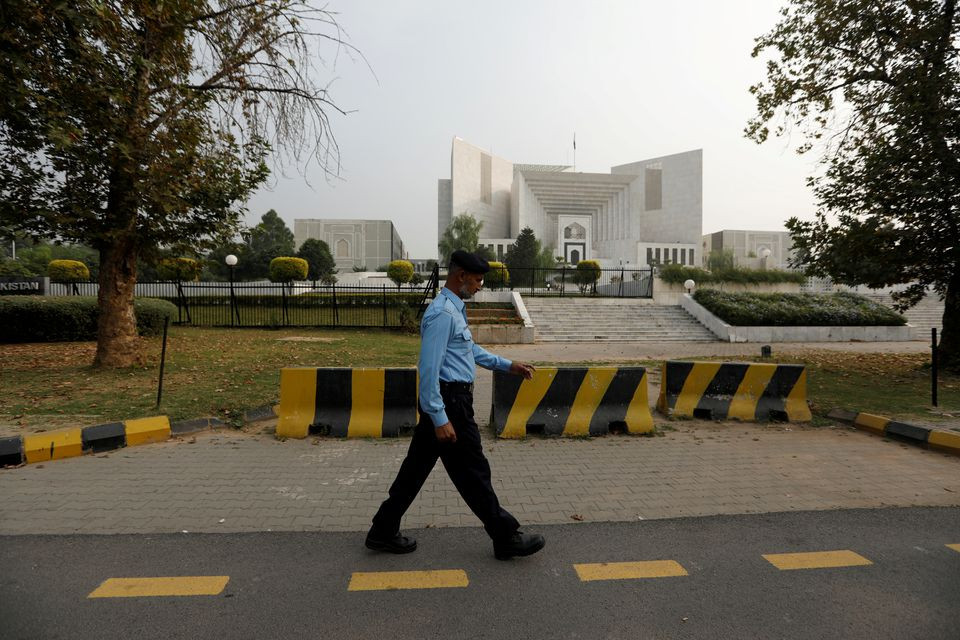 The Supreme Court (SC) on Wednesday sought a detailed reply from Pakistan Tehreek-e-Insaf Chairperson Imran Khan over the violation of the May 25 order wherein PTI's Azadi March was restricted from entering D-Chowk.
A five-member larger bench of the apex court, headed by the chief justice, heard the contempt petition against the PTI chief.
During the hearing, Chief Justice of Pakistan (CJP) Umar Ata Bandial said, "We moved in this case carefully. Even now we are exercising great restraint".
The chief justice added that "we don't want that our pen is misused. We have to protect the Constitution".
Read: 'Imran called protesters to D-Chowk on May 25'
"If we believe in democracy, then the right of the people should not have been violated during the protests," the CJP further said.
The bench further expressed disappointment to two PTI lawyers, Babar Awan and Chaudhary Faisal Hussain, over violating the court's trust in the May 25 order.
"When our trust is breached then it is very wrong," said Justice Bandial and he noted that it seemed that the apex court was misled through the two counsels.
Justice Ijaz ul Ahsan also noted that the SC order was misused.
While referring to Senator Azam Swati's statement, wherein he stated that his dignity was violated, the chief justice said he wondered how the government, which forms under the Constitution, is violating the fundamental rights of its citizens.
The hearing of the case was then adjourned until next week.
Also read: PTI files contempt plea in SC against govt action during May 25 march
Earlier, in a reply to the SC over the contempt of court plea, the deposed prime minister had maintained that he was unaware of any statement or undertaking having been submitted to the court on behalf of the "senior leadership" of the party ahead of its May 25 long march.
The former premier submitted his reply after the apex court had directed him to submit a written response after examining the reports filed by the Islamabad Capital Territory (ICT), Intelligence Bureau (IB), and Inter-Services Intelligence (ISI).
The SC order
The apex court had issued clear instructions to hold its Azadi March protest near Peshawar Mor between the H-9 and G-9 areas of Islamabad. However, Imran and his protestors did make their way toward D-Chowk, prompting the government to call in the Pakistan Army for the security of the capital's Red Zone.


Source link