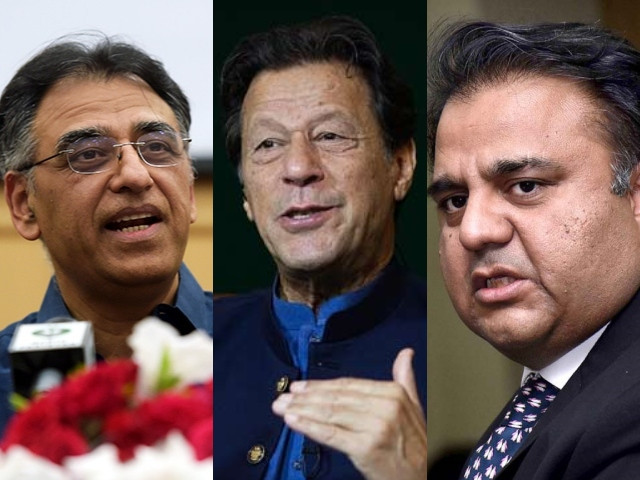 The Supreme Court (SC) on Tuesday issued notices to Pakistan Tehreek-e-Insaf (PTI) chief Imran Khan and party leaders Asad Umar and Fawad Chaudhry as it heard the Election Commission of Pakistan's (ECP) plea seeking consolidation and transfer of different challenges to one high court.
A three-member bench headed by Chief Justice of Pakistan Umar Atta Bandial heard the case. Last week, the apex court had fixed the hearing for the ECP's petition seeking to consolidate and transfer all six challenges pending before different high courts to one high court for November 15.
During the hearing today, the court issued notices to Imran Khan, Fawad Chaudhry and Asad Umar and ordered to schedule appeals against the commission's injunction order for a hearing.
Read Toshakhana reference sent to trial court against Imran
The SC remarked that the electoral watchdog had questioned if they should prepare for local and general elections or fight cases. Therefore, it had requested to transfer the cases pending in different high courts to one high court.
With the order of the Supreme Court, the ECP also presented judicial precedents for the consolidation.
Subsequently, the court adjourned the hearing of the case for 15 days.
It is pertinent to mention that last month, a set of six ECP petitions pleaded before the apex court that ever since the high courts granted interim relief to PTI leaders by allowing the commission to continue hearing the matter but not pass any final order till the outcome of the petitions, former ruling party leaders were avoiding appearance before the electoral watchdog.
It said that the high courts' orders which restrained the ECP from taking action against PTI leaders had brought the commission to a standstill.
Read More SC judge sees no solid reason for NAB law tweaks
Later, in another set of petitions, the ECP had argued that the high court orders were illegal and unlawful having effectively suspended Section 10 of the Elections Act, 2017, by restraining the electoral watchdog from taking 'adverse action' against the PTI leader.
Earlier, the ECP had also issued contempt notices against the PTI leaders and had asked them to appear in person or through their counsel before the commission to explain their positions.
However, the party leaders had challenged the notices before different high courts, invoking the jurisdiction of different high courts including the Lahore High Court (LHC), Sindh High Court, Islamabad High Court and LHC-Rawalpindi Bench, on the grounds that Section 10 of the Elections Act, 2017 was against the constitution.
Section 10 of the Elections Act, 2017 is the statutory provision dealing with the ECP's power to punish for contempt.
The PTI leaders had also sought relief in the cases from the high courts.


Source link