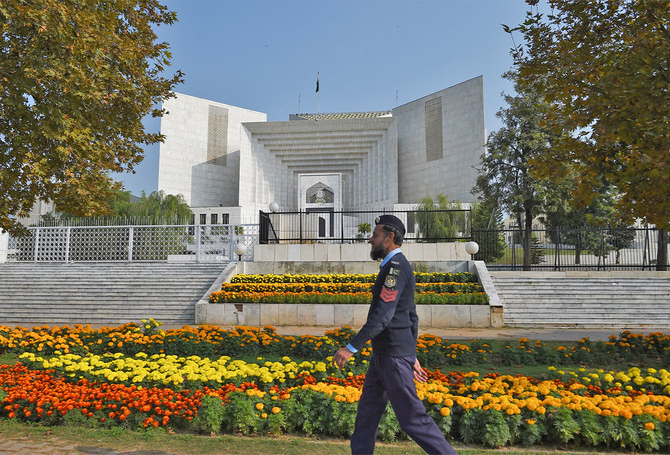 The Supreme Court dismissed on Wednesday a petition seeking disqualification against Pakistan Tehreek-e-Insaf (PTI) leaders Khusro Bakhtiar and Hashim Jawan Bakht.
The plea was heard by a three-member bench, headed by Justice Ijazul Ahsan, comprising Justice Ayesha Malik and Justice Mazahar Ali Akbar Naqvi.
Irked by the petitioner's, lawyer Ahsan Abid, "manners", the apex court, during today's hearing, reprimanded Abid, asking him if the three people [judges] sitting in front of him were "useless".
Justice Ahsan questioned the lawyer on why he would start pondering every time he was asked a question. "You do not have the manners to appear before the Supreme Court. Such a reaction is an insult to the court," he said.
Apologising to the court, the petitioner explained that Bakhtiar and his brother, Jawan Bakht had hidden assets.
"You could not provide evidence regarding concealment of assets to the Election Commission even," Justice Ahsan maintained.
Justice Ayesha stated that, "The document you are relying on is a complaint filed with the National Accountability Bureau (NAB). Should two members of the National Assembly be disqualified on the basis of a complaint?"
Read Khusro Bakhtiar draws PM Imran's ire over 'irresponsible attitude'
Questioning the petitioner, Justice Ahsan asked, "Did you contest the election against Khusro Bakhtiar? How many votes did you get?"
"Khusro Bakhtiar got 100,000 votes and I got about 1,000 votes," the petitioner replied.
After hearing the arguments, Justice Naqvi advised the petitioner to withdraw the application. "It will be appropriate to withdraw the application, and wait for new elections," he said.
Last month, the apex court had issued a written order on the appeal for the disqualification of the brothers after the SC registrar declared the plea inadmissible.
The order stated that the registrar was mandated to deal with administrative matters, and was also empowered to ensure that the petition is in accordance with the SC Rules.
However, the judge noted that the registrar does not have the power to decide whether an application is admissible or not, therefore, this decision can only be made under the jurisdiction of the court.
The top court thus accepted the appeal against the objections of the Registrar's Office.


Source link