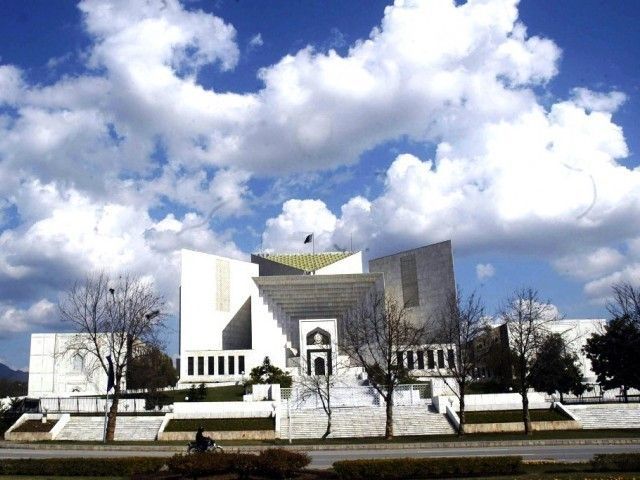 The Supreme Court on Tuesday set aside the Registrar Office objection against the Pakistan Tehreek-e-Insaf's (PTI) petition to halt fresh delimitation of constituencies across the country, and admitted the case for regular hearing.
Justice Ijazul Ahsan held an in-chamber hearing of PTI leader Asad Umar's appeal against the registrar's move. The judge heard the matter for two consecutive days.
The petition was directly filed in the Supreme Court despite having an opportunity to raise the matter at the concerned forum, the registrar had said in its objection and added that the petition also did not carry concerned certificates.
During an in-chamber hearing on Monday, advocate Faisal Chaudhry maintained that to adjudicate upon the matter as important as the delimitation of the constituencies was the prerogative of the Supreme Court. Interestingly, PTI senior leader Chaudhry Fawad Hussain was also present in the chamber .
"It is a matter that concerns the entire country, a high court is not authorised to decide on it," he stressed, arguing for the maintainability of the plea.
At this Justice Ejazul Hassan wondered whether the delimitation was not required following the merger of the erstwhile Fata with Khyber-Pakhtunkhwa.
The PTI's counsel adopted the view that the population ratio has not changed since 2017.
Read More: SC judge irked by 'culture of crying foul'
On Tuesday, after two days of the in-chamber hearing, the judge allowed the appeal after two days of the hearing. The case will be fixed for hearing in the court.
It is learnt that the PTI will move application regarding early fixation of this petition before eid.
The PTI had earlier this month moved the top court seeking a declaration that the delimitation schedule announced by the Election Commission of Pakistan (ECP) on April 11 was "illegal' and 'unconstitutional".
The petition also requested the SC to order the election supervisor and secretary to ensure the upcoming electoral process is in accordance with law and the Constitution and is carried out without wasting any time or creating a delay.
The application contended that the endeavour by the ECP to carry out new delimitation of provincial and national constituencies across the country and the subsequent schedule it issued amounted to a departure from Article 51(5).
As the delimitation exercise conducted in 2018 under the command of the Constitution has to be considered final till the new census takes place, therefore, the ECP is bound to hold elections on the basis of the delimitation conducted previously, the petition said.


Source link