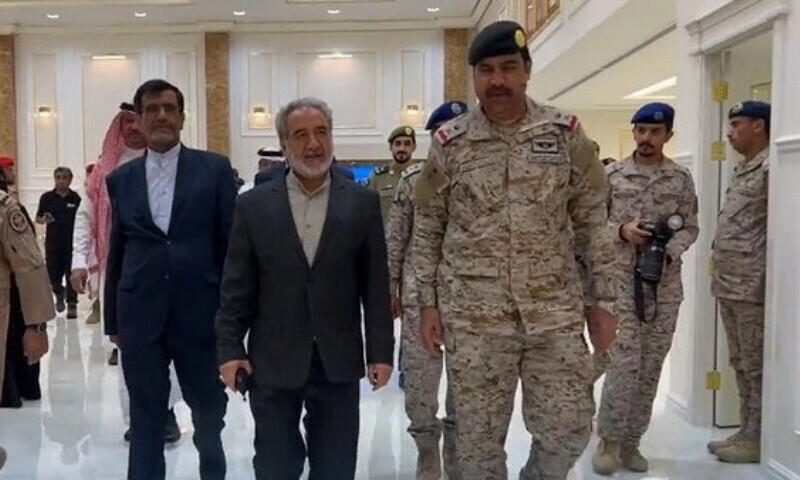 The growing rapprochement between Riyadh and Tehran after years of mistrust was visible on Monday as Saudi Arabia helped evacuate Iranian citizens fleeing the war in Sudan.
The Saudi navy carried the 65 Iranian citizens from Port Sudan to Jeddah and they will fly onwards to Tehran.
To get a sense of the tectonic shifts taking place in the region, all one has to do is watch this video of a Saudi military officer welcoming an Iranian official in Saudi Arabia after the Saudi navy evacuated more than 60 Iranian citizens from Sudan.
Saudi military officer: "The… pic.twitter.com/Z9Wd6RVko1
— Ebrahim Hashem 李思瑞 إبراهيم هاشم (@EbrahimHashem) April 30, 2023
Iran's Foreign Ministry spokesperson Nasser Kanaani called the transfer "a positive event" that had taken place thanks to Saudi-Iranian cooperation.
Ahmed al-Dabais, a senior Saudi military officer handling the operation, told Iranian evacuees that the two countries were good friends and brothers and they should regard the kingdom as their own country, in a video carried by local television.
فيديو | القائم بأعمال السفارة الإيرانية لدى المملكة يشكر حكومة #خادم_الحرمين_الشريفين على إجلاء 65 من رعايا إيران#المملكة_تجلي_العالقين_بالسودان#الإخبارية pic.twitter.com/9YS6TdhjzY
— قناة الإخبارية (@alekhbariyatv) April 30, 2023
Saudi Arabia, across the Red Sea from Sudan, has been a major hub for the evacuation effort as countries have worked to pull thousands of foreign citizens out of the conflict that suddenly erupted on April 15.
Also read: Islamic State leader killed in Syria by Turkish intelligence services, Erdogan says
Shia Iran and Sunni Saudi Arabia had feuded for years, backing opposing sides in wars and political struggles across the Middle East in a tussle for influence that fed conflicts and inflamed sectarian hatred.
Saudi Arabia cut off diplomatic relations in 2016 after Iranian protesters stormed the kingdom's Tehran embassy following Riyadh's execution of a Shia cleric.
However, the two major oil producers agreed to end their rift and reopen diplomatic missions in a deal brokered in March by China.


Source link