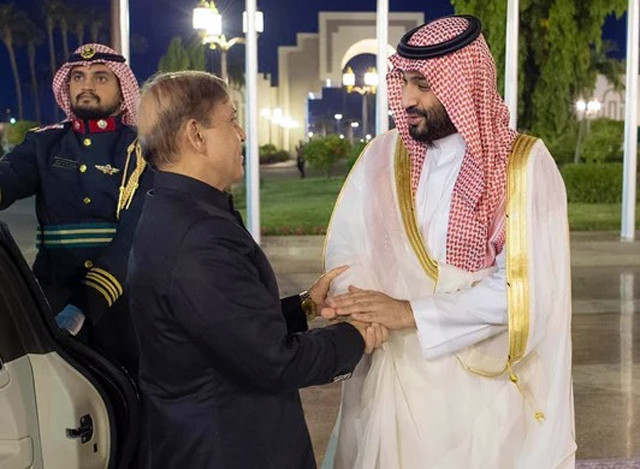 Crown Prince and Prime Minister of Saudi Arabia Mohammed bin Salman's visit to Pakistan has been postponed which was scheduled to take place later in November.
Official sources told The Express Tribune that the Saudi crown prince's visit to Asia has been delayed, therefore, his trip to Pakistan was also postponed. The Saudi prime minister will now go straight to Bali, Indonesia, where he will attend the G20 summit.
Saudi diplomatic sources are also confirming the development. However, the government has not confirmed or denied it yet.
Read more: Saudi crown prince's Pakistan visit on track despite political upheaval
The government of Prime Minister Shebhaz Sharif, which is facing multiple economic challenges, was keen to ensure the visit takes place as the Saudi crown prince was expected to announce another financial bailout package for Pakistan.
Finance Minister Ishaq Dar during his recent visit to Saudi Arabia sought additional $4.2 billion financial bailout package. He told reporters on Friday that Saudi Arabia had given a positive response to his request.
The MBS visit was seen as crucial as government was expecting some financial bailout package as well as revival of certain projects that were shelved during the PTI government.
The visit of MBS was being planned at a time when the coalition government led by Shehbaz is facing daunting economic challenges and when Saudi Arabia is involved in a diplomatic row with the US over the recent cut in oil supplies by major exporting countries.


Source link