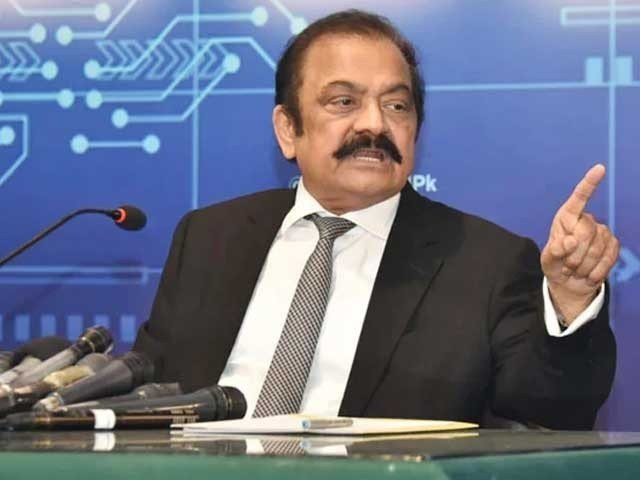 Minister for Interior Rana Sanaullah on Wednesday has warned of imposing governor's rule in Punjab if his entry into the province was restricted.
Addressing a presser in Islamabad earlier today, the minister said that banning his entry into the province would be the reason for the governor's rule to be activated.
He furthered that the work on the summary for imposing the rule had begun, which would be published by the home ministry.
LIVE #APPNews : Federal Minister for Interior @RanaSanaullahPK talks to media #Islamabad https://t.co/tjgmhVnAA3
— APP 🇵🇰 (@appcsocialmedia) July 27, 2022
"Was it not a fact that Hamza Shahbaz was elected as the chief minister with 197 votes?" he asked, "However, the apex court's decision was that the vote of the defectors would not be counted and that Hamza Shahbaz would also be de-seated," Sanaullah said, referring to the April 16 elections for the provincial chief executive.
In April, the Pakistan Tehreek-e-Insaf (PTI) had moved the Lahore High Court against its 25 dissident lawmakers for voting for Hamza and defying party directives to vote for Pakistan Muslim League-Quaid (PML-Q) leader Chaudhry Pervez Elahi.
Subsequently, the Election Commission of Pakistan had de-seated 25 PTI MPAs following the Supreme Court's verdict on a presidential reference, seeking its interpretation of Article 63-A, related to the disqualification of lawmakers over defection.
Read Sana spurns PTI chief's harassment allegation
Sanaullah claimed that then 25 votes were subtracted but the decision to count votes in the National Assembly was also given by the same SC on Tuesday and that due to that verdict the 25 dissidents "have also been restored".
He added that neither were people saying that the judiciary lacks powers nor that powers should be given to the parliament instead. "However, an impartial judiciary is the basic need of every country and society," he emphasised.
The minister stated that he was saddened by the discussion going on in the media and social media on Tuesday's decision of the top court.
"Bench-fixing, sometimes referred to as bench-fixers, is also a crime," he said, adding that a discussion on the contents of a senior judge's letter is deplorable.
"If this is happening, it is a matter of concern for the entire nation".


Source link