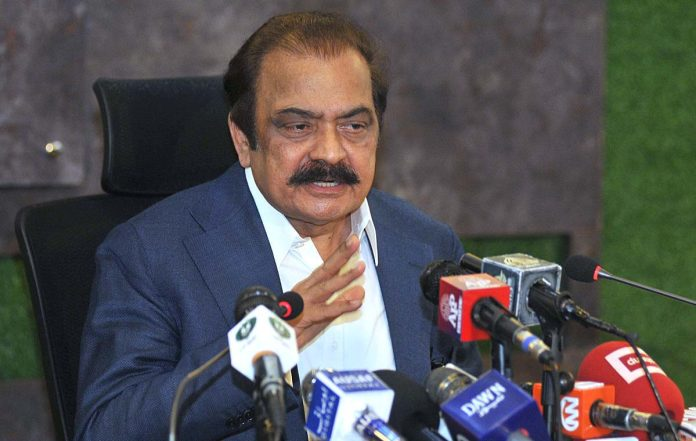 Federal Minister for Interior Rana Sanaullah and five other co-accused on Saturday filed a plea seeking acquittal from an alleged drug smuggling case registered with the Anti-Narcotics Force (ANF) and argued that the prosecution could provide no evidence to establish the case against them.
The petitioners contended that the judicial file does not have any incriminating piece of evidence against them and emphasised that the story narrated in the first information report (FIR) was 'concocted and fabricated'.
They informed the court that nothing was recovered from the officials who intercepted them.
The interior minister and other petitioners also claimed that this was a case of political victimisation. They maintained that Pakistan Tehreek-e-Insaf (PTI) leader Fawad Chaudhry had categorically admitted that this case was not lodged during deposed premier Imran Khan's government and that the case was filed by 'influential people' within the country.
They further informed the court that the footage of Safe City cameras was also available on the case file, which negated the version of the prosecution. They furthered that the prosecution failed to establish this case so the proceedings against the petitioners were an abuse of the process of law.
Read Sanaullah challenges Imran to dissolve assemblies
The plea stated that the petitioners should be acquitted on the basis of benefit of the doubt as doubt is sufficient in this case for the acquittal of the accused.
It further claimed that the prosecution witnesses of the case did not support the version of the complainant.
The petitioners requested that their acquittal application be admitted and they be exonerated from the charge.
Case details
On July 1, 2019, Sanaullah was arrested by the ANF Lahore team while he was travelling from Faisalabad to Lahore near the Ravi Toll Plaza on the motorway, and the team claimed to have seized 15kg of heroin from his vehicle.
A special team had also arrested five others, including the driver and security guards of the PML-N leader.
According to the FIR registered by the ANF deputy director operations – under sections 186,189 and 353 of the Pakistan Penal Code (PPC), while sections 15, 17 of 9C of the Control of Narcotic Substances Act (CNSA) 1997 – the ANF had received information that Rana Sanaullah was involved in drug smuggling and now was now taking heroin to Lahore.
It is pertinent to note that Section 9(C) of the CNSA 1997 carries the death penalty or life imprisonment or a jail term that may extend to 14 years, along with a fine of up to Rs1 million.


Source link