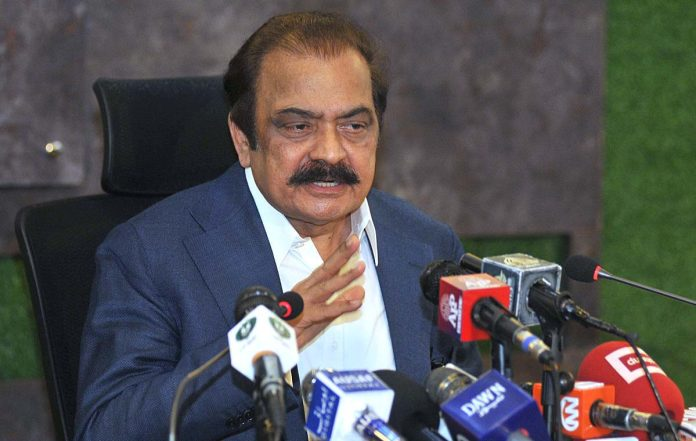 [ad_1]
Interior Minister Rana Sanaullah on Saturday warned that there was a possibility of a "clash" in Sindh due to differences between political parties about the local body polls' scheduling in Karachi and Hyderabad.
Expressing deep concern over the situation, the minister said that "miscreants" could take advantage of the potential clash.
Without mentioning much detail about the nature of the conflict, he added that a small incident could turn into something more serious in either city.
Sana urged political parties and electoral bodies to understand the severity of the situation and emphasised the need to "diffuse the tense atmosphere".
Read ECP cannot reject Sindh govt's decision on LG polls: Memon
He furthered that the Election Commission of Pakistan (ECP) and the judiciary should take note of the seriousness of the matter and find an appropriate solution in light of the Constitution and the law.
Commenting on the possible dissolution of the Khyber-Pakhtunkhwa (K-P) Assembly, the home minister claimed that the safety of people's lives and property, and peace and order in the province were not the priority of the provincial chief minister.
He said that the K-P CM's energies were focused on dissolving the provincial assembly.
Sana added that recent incidents reflected that the K-P government did not learn any lesson from the terrorist attack on the Banu Counter Terrorism Department (CTD) headquarters.
He stated that the federal government was deeply concerned about the constantly deteriorating law and order situation in K-P.
He questioned that if the K-P police were not safe from terrorist attacks, then what would happen to the security of the people?
Read More DSP among 3 martyred in late-night terrorist attack in K-P
The minister condemned the terrorist attack on the Sarband Police Station in Peshawar and expressed his condolences to the families of the martyrs.
Sindh LG elections
Sana's statement comes after a dispute between the ECP and Sindh government about the schedule of local government elections in Karachi and Hyderabad.
The Sindh government on Saturday reiterated its request to postpone the local government elections in Karachi and Hyderabad.
A letter issued today by the Pakistan Peoples Party (PPP)-led government has requested the ECP to postpone the LG polls.
The request, however, comes less than 24 hours after the ECP had rejected the provincial government's request for the postponement of local body polls, saying that elections will be held on Jan 15 (tomorrow) as per schedule.
The electoral watchdog had suspended the notification of the Sindh government against the Sindh LG Act, 2013. It had also rejected the provincial government's request to postpone elections in Dadu district due to the post-flood situation.

[ad_2]
Source link