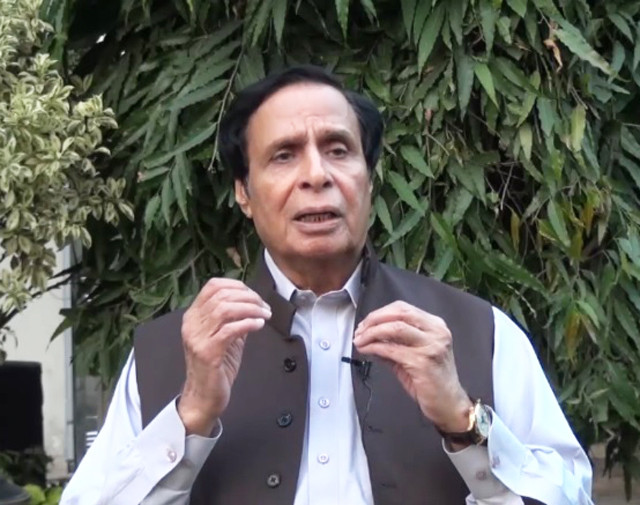 [ad_1]
Punjab Chief Minister Chaudhry Pervaiz Elahi has said that Interior Minister Rana Sanaullah is trying to distort the facts by misinterpreting the Lahore High Court (LHC) verdict on confidence vote in a bid to mislead the people about PML-N's "humiliating defeat" in Punjab Assembly last night.
Following weeks of political turbulence in Punjab, CM Elahi proved his majority in the provincial assembly, winning the much-hyped vote of confidence amid ruckus and opposition's boycott in the early hours of Thursday.
The vote of confidence that commenced after midnight concluded with the Pakistan Muslim League-Quaid (PML-Q) and Pakistan Tehreek-e-Insaf (PTI) coalition showing majority in the provincial legislature with the support of 186 lawmakers – the minimum number of votes required to win the trust vote.
Also read: After much ado, Elahi proves majority
"Rana Sanaullah and his leadership are experts in telling lies… they have no credibility among the people. Rana Sanaullah and Atta Tarar suffered a crushing defeat in Punjab," CM Elahi wrote on his official Twitter handle.
رانا ثناء اللہ حقائق مسخ اور عوام کو گمراہ کرنے کی مذموم کوشش کر رہے ہیں۔رانا ثناء اللہ عدالتی فیصلے کی من مانی تشریح کر رہے ہیں۔رانا ثناءاللہ اور ان کی قیادت جھوٹ بولنے کے ماہر ہیں، عوام میں ان کی کوئی ساکھ نہیں۔رانا ثناء اللہ اور عطا تارڑ کو پنجاب میں عبرتناک شکست ہوئی۔
— Ch Parvez Elahi (@ChParvezElahi) January 12, 2023
Referring to the PML-N leaders' statements ahead of yesterday's confidence vote, CM Elahi said, "Those who wanted to seize the throne of Punjab had to flee overnight".
پنجاب کے تخت پر قبضے کی خواہش رکھنے والوں کو راتوں رات فرار ہونا پڑا۔ اللہ تعالیٰ نے سرخرو کیا، آئیندہ بھی سرخرو ہوں گے۔مسلم لیگ ن کی منفی سیاست کو پنجاب نے مسترد کر دیا، سازشیں دھری کی دھری رہ گئیں۔ پنجاب اسمبلی پر شب خون مارنے کی کوشش کرنے والے اب روتے رہیں گے۔
— Ch Parvez Elahi (@ChParvezElahi) January 12, 2023
The people of Punjab rejected the negative politics of PML-N, he added.
Earlier today, Punjab Governor Baligh Ur Rehman on Thursday withdrew Chief Minister Chaudhry Pervaiz Elahi's de-notification order upon which the Lahore High Court (LHC) disposed of the petition challenging the governor's order.

[ad_2]
Source link